Shrubs - Making the Space into a room
Flowers by color:
Blue Flowers Pink Flowers Purple Flowers Orange Flowers Red Flowers Salmon Flowers Yellow Flowers White Flowers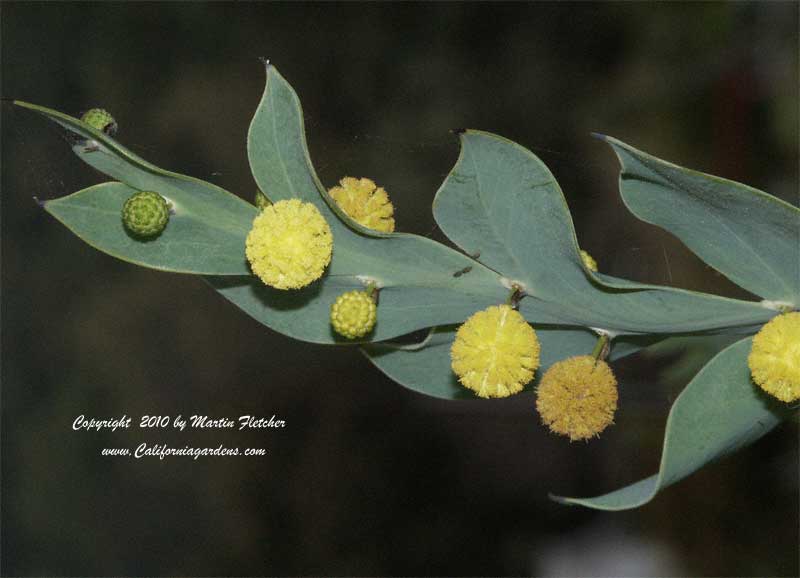 Our list of shrubs for California gardens aims to provide interesting and garden worthy choices. We have a number of plants listed that will thrive in our arid climate without taxing the water bill. We also have lists of plants appropriate to the dry shady conditions under Oak Trees and lists of Native California plants as well.
Plants in this list must have woody stems for us to call them shrubs. But they are not large enough to be trees. Though in a small garden a large shrub could be used effectively as a small tree. As with all divisions there is a group of plants that could be categorized in other ways.
Shrubs are a great filler. I use them for screens, for color, for contrast. I am particularly enamored with shrubs that get on the big side. Some can be used as small trees. So many gardens are too small to have a full sized tree fit to the scale of the yard. Large shrubs can fill the bill. Many of them get in excess of 10 feet tall. Those that get to more than that are in our tree list.
I love an informal hedge of mixed shrubs. I chose several that bloom at different times and have an interesting contrast to their foliage. I group them in masses that are large enough to see the pattern and spread the groups so that there is a balance to the view. Then I insert a few that are unique specimens for their seasonal highlights. It is easy to add a second theme to this mix and attract hummingbirds or butterflies by choosing appropriate plants.
There are many shrubs that work as a thick groundcover. This is great for a yard that requires water conservation. Water can be applied at intervals of 4-6 feet instead of being broadcast everywhere. A large number of plants from habitats similar to ours can thrive without supplemental water. This group includes Ceanothus and rockroses (Cistus) and many others. This can result in great conservation of water and plants at planting time.
There is also a long list of shrubs that can be incorporated into the dry shade garden. For this I use many of the gooseberries, Garrya eliptica, abutalons, and many others.
Shrub List
Abelia grandiflora * Glossy Abelia
Abelia grandiflora Francis Mason * Francis Mason Abelia
Abelia grandiflora Kaleidoscope * Kaleidoscope Abelia
Abutilon hybridum peach * Peach Chinese Lantern
Abutilon hybridum pink * Pink Chinese Lantern
Abutilon hybridum red * Red Chinese Lantern
Abutilon Mango Cheesecake * Mango Cheesecake Chinese Lantern
Abutilon Moonchimes * Yellow Chinese Lantern
Abutilon Nabob * Giant Red Abutilon, Nabob Chinese Lantern
Abutilon hybridum yellow * Yellow Chinese Lantern
Abutilon megapotamicum Seashell * Seashell Chinese Lantern
Abutilon palmeri * Indian Mallow
Acacia boormanii * Snowy River Wattle
Acacia chinchillensis * Chinchilla Wattle
Acacia Cousin Itt * Little River Wattle
Acacia covenyi * Blue Bush Acacia
Acacia cultriformis * Knifeleaf Wattle, Knife Wattle, Dogtooth Wattle
Acacia glaucoptera * Flat Wattle
Acacia iteaphylla * Willow Wattle, Flinder's Range Wattle
Adenostoma fasciculatum * Chamise, Greasewood
Aloe arborescens * Torch Aloe
Aloysia triphylla * Lemon Verbena
Alyogyne hakeifolia * Red Centered Hibiscus
Alyogyne hakeifolia Shelby Anne * Shelby Anne Red Centered Hibiscus
Alyogyne huegelii Monterey Bay * Monterey Bay Blue Hibiscus
Alyogyne huegelii Mood Indigo * Mood Indigo Blue Hibiscus
Alyogyne huegelii Santa Cruz * Santa Cruz Blue Hibiscus
Anisacanthus quadrifidus wrightii * Hummingbird Bush, Mexican Flame
Anisacanthus thurberi * Thurber's Desert Honeysuckle
Anisodontea hypomandarum * Cape Mallow
Anisodontea 'Tara's Wonder'
Antirrhinum multiflorum * Sticky Snapdragon
Arctostaphylos edmundsii Danville * Danville Manzanita
Arctostaphylos edmundsii Little Sur * Little Sur Manzanita
Arctostaphylos Howard McMinn * Howard McMinn Manzanita
Arctostaphylos insularis * Island Manzanita
Arctostaphylos John Dourley * John Dourley Manzanita
Arctostaphylos Lester Rowntree * Lester Rowntree Manzanita
Arctostaphylos Pacific Mist * Pacific Mist Manzanita
Argyranthemum Chelsea Girl * Chelsea Girl Marguerite Daisy, Chelsea Girl Paris Daisy
Argyranthemum Madeira Cherry Red * Madeira Cherry Red Marguerite Daisy, Madiera Cherry Red Paris Daisy
Argyranthemum frutescens Silver Lady * Silver Lady Marguerite, Silver Lady Paris Daisy
Artemisia californica * California Sagebrush
Artemisia arborescens Powis Castle * Powis Castle Wormwood
Artemisia arborescens Huntington * Huntington Wormwood
Artemisia frigida * Fringed Sage
Atriplex hymenelytra * Desert Holly
Baccharis pilularis * Coyote Brush
Banksia blechnifolia * Groundcover Banksia
Banksia burdettii * Burdett's Banksia
Banksia caleyi * Red Lantern Banksia
Banksia ericifolia * Heath Banksia
Banksia grandis * Bull Banksia
Banksia praemorsa * Cut Leaf Banksia
Barleria obtusa * Bush Violet
Bauhinia galpinii * Red Orchid Bush
Beloperone californica * Chuparosa
Berberis nevinii * Nevin's Barberry
Berberis thunbergii atropurpurea * Red Japanese Barberry
Berberis trifoliolata * Trifoliate Barberry
Boronia crenulata Shark Bay * Shark Bay Aniseed Boronia
Bougainvillea Rosenka
Breynia disticha * Snow Bush
Brugmansia Betty Marshall * White Trumpet Tree
Brugmansia Charles Grimaldi * Gold Angel's Trumpet Tree
Brunfelsia uniflora * Yesterday Today and Tomorrow
Buddleia Black Knight * Black Knight Butterfly Bush
Buddleia Blue Ribbon * Blue Ribbon Butterfly Bush
Buddleia Color Crush * Color Crush Butterfly Bush
Buddleia davidii Harlequin * Variegated Purple Butterfly Bush
Buddleia lindleyana * Weeping Butterfly Bush
Buddleia Lochinch * Lavender Butterfly Bush, Lochinch Butterfly Bush
Buddleia marrubifolia * Woolly Butterfly Bush
Buddleia Miss Molly * Dwarf Red Butterfly Bush, Miss Molly Butterfly Bush
Buddleia Nanho Purple * Nanho Purple Butterfly Bush
Buddleia davidii Pink Delight * Pink Delight Butterfly Bush
Buddleia weyeriana * Gold Butterfly Bush
Buddleia White Profusion * White Profusion Butterfly Bush
Caesalpinia californica Vara Prieta
Caesalpinia gilliesii * Native Bird of Paradise
Caesalpinia pulcherrima * Red Bird of Paradise, Poinciana
Calceolaria integrifolia Gold Nugget * Gold Nugget Lady's Slipper
Calliandra californica * Baja Fairy Duster
Calliandra eriophylla * Fairy Duster
Calliandra haematocephala * Pink Powder Puff Bush
Calliandra haematocephala alba * White Powderpuff Bush
Calliandra tweedii * Red Tassel Bush
Callistemon Cane's Hybrid * Cane's Bottlebrush
Callistemon citrinus Jeffersii * Dwarf Bottlebrush
Callistemon Little John * Dwarf Bottlebrush
Calothamnus quadrifidus * One Sided Bottle Brush
Calycanthus occidentalis * Spice Bush
Camellia Ginyo Tsubaki
Camellia japonica Chandleri Elegans
Camellia sasanqua alba
Capparis spinosa * Caper
Carissa macrocarpa * Natal Plum
Carpenteria californica Elizabeth * California Anemone
Caryopteris clandonensis Korball * Blue Balloon
Caryopteris incana * Bluebeard
Caryopteris x clandonensis Longwood Blue
Cascabela thevetia * Yellow Oleander, Cook Tree
Cassia artemisioides * Silver Cassia
Cassia purpusii * Baja California Senna
Ceanothus List
Ceanothus Anchor Bay * Point Reyes California Lilac
Ceanothus burtonensis Far Horizons * Far Horizons California Lilac
Ceanothus Centennial * Centennial California Lilac
Ceanothus Concha * Concha California Lilac
Ceanothus crassifolius * Hoary Ceanothus
Ceanothus Dark Star * Dark Star California Lilac
Ceanothus Frosty Dawn * Frosty Dawn California Lilac
Ceanothus Gentian Plume * Gentian Plume California Lilac
Ceanothus greggii * Desert Ceanothus
Ceanothus hearstiorum * Hearst's California Lilac
Ceanothus Joan Mirov * Joan Mirov California Lilac
Ceanothus Joyce Coulter * Joyce Coulter California Lilac
Ceanothus megacarpus * Big Pod California Lilac
Ceanothus oliganthus sorediatus * Jim Brush, Hairy Ceanothus
Ceanothus Point Sierra * Point Sierra California Lilac
Ceanothus Ray Hartman * Ray Hartman California Lilac
Ceanothus rigidus Sierra Snow * Monterey Ceanothus
Ceanothus Snow Flurry * Snow Flurry California Lilac
Ceanothus spinosus * Greenbark Ceanothus, Redheart California Lilac
Ceanothus Tassajara Blue * Tassajara Blue California Lilac
Ceanothus Valley Violet * Valley Violet Maritime California Lilac
Ceanothus Wheeler Canyon * Wheeler Canyon California Lilac
Ceanothus Yankee Point * Yankee Point California Lilac
Centradenia grandiflora * Trailing Princess Flower
Cercocarpus betuloides * Mountain Mahogany
Cestrum aurantiacum * Orange Jessamine
Cestrum elegans var Smithii * Pink Cestrum
Cestrum newellii * Red Cestrum
Cestrum nocturnum * Night Blooming Jasmine
Chamelaucium My Sweet 16 * Bicolored Waxflower
Chorizema cordatum * Heart Leaf Flame Pea
Choysia ternata * Mexican Orange Blossom
Chrysactinia mexicana * Damianita
Chrysothamnus nauseosus * Rabbit Brush
Cistus Bennett's White * Bennett's White Rockrose
Cistus ladanifer Blanche * Blanche White Rockrose
Cistus Grayswood Pink * Grayswood Pink Rockrose
Cistus ladanifer maculatus * Brown Eyed Rockrose
Cistus labdanum
Cistus purpureus * Purple Rockrose
Cistus salviifolius * Sage Leaf Rockrose
Cistus Second Honeymoon * Variegated Rockrose
Cistus skanbergii * Pink Rockrose
Cistus Sunset * Magenta Rockrose
Cleome arborea * Bladderpod
Clerodendrum bungei * Rose Glorybower
Clerodendrum floribundum * Lolly Bush
Clerodendrum philippinum * Cashmere Bouquet
Clerodendrum ugandense * Butterfly Bush
Convolvulus sabatius * Ground Morning Glory
Coprosma County Park Red * County Park Red Mirror Plant
Coprosma kirkii variegata * Dwarf Variegated Mirror Plant
Coprosma Marble Queen * Marble Queen Mirror Plant
Coprosma Pina Colada * Pina Colada Mirror Plant
Coprosma Rainbow Surprise * Rainbow Surprise Mirror Plant
Coprosma Roy's Red * Roy's Red Mirror Plant
Cordia decandra * Carboncillo
Cornus sericea * Red Osier Dogwood
Correa Dusky Bells * Pink Australian Fuchsia
Correa Ivory Bells * White Australian Fuchsia
Correa pulchella Pink Eyre * Pink Eyre Australian Fuchsia
Correa reflexa Cape Carpet * Cape Carpet Australian Fuchsia
Correa reflexa Kangaroo Island * Kangaroo Island Australian Fuchsia
Crassula ovata Gollum * Gollum Jade
Crossandra Sundance * Firecracker Flower
Crotalaria agatiflora * Canary Bird Bush
Crowea Pink Star * Pink Star Crowea
Cuphea Caribbean Sunset
Cuphea cyanea * Black Eyed Cuphea
Cuphea David Verity * Large Firecracker Plant, David Verity Firecracker Plant
Cuphea lanceolata Starfire * Starfire Cigar Plant
Cuphea llavea * Bat Face Cuphea
Cuphea micropetala * Candycorn Plant
Cuphea viscosissima * Blue Waxweed, Clammy Cuphea
Dalea frutescens * Black Dalea
Dalea lutea * Yellow Dalea
Dendromecon harfordii * Island Bush Poppy
Dendromecon rigida * Bush Poppy
Dicliptera suberecta * Hummingbird Bush
Digitalis canariensis * Canary Island Foxglove
Diplacus aurantiacus * Sticky Monkeyflower
Diplacus longiflorus * Southern Bush Monkeyflower
Dodonaea viscosa purpurea * Purple Hopseed Bush
Dombeya wallichii * Tropical Hydrangea
Dorycnium hirsutum * Gray Broom, Hairy Canary Clover
Drosanthemum bicolor * Dew Flower
Duranta erecta * Sky Flower
Echium candicans * Pride of Madeira
Echium gentianoides Tajinaste
Echium wildprettii * Tower of Jewels
Elaeagnus pungens fruitlandii * Russian Olive, Silver berry
Encelia californica * California Brittle Bush, Coast Sunflower
Encelia californica El Dorado * California Brittlebush, California Sunflower
Encelia californica Paleo Yellow * Paleo Yellow California Brittle Bush
Encelia farinosa * Brittlebush, Incienso
Encelia ventorum * Baja Bush Sunflower
Ephedra californica * Desert Tea
Eranthemum pulchellum * Blue Sage
Eremophila aurea * Golden Emu Bush
Eremophila bignoniiflora x polyclada * Big Poly Emu Bush
Eremophila glabra Fire and Ice * Fire and Ice Emu Bush
Eremophila glabra Kalgoorlie * Fuchsia Emu Bush
Eremophila glabra Minegnew Gold * Minegnew Gold Emu Bush
Eremophila glabra carnosa Winter Blaze * Winter Blaze Emu Bush
Eremophyla hygrophana * Blue Emu Bush
Eremophila maculata * Spotted Emu Bush
Eremophila maculata brevifolia Valentine * Valentine Emu Bush
Eremophila racemosa * Easter Egg Emu Bush
Ericameria linearifolia * Narrowleaf Goldenbush
Ericameria nauseosa * Rabbit Brush
Eriodictyon crassifolium * Felt Leaved Yerba Santa
Eriodictyon tomentosum * Woolly Yerba Santa
Eriogonum arborescens * Santa Cruz Island Buckwheat
Eriogonum cinereum * Ashyleaf Buckwheat, Coastal Buckwheat
Eriogonum crocatum * Conejo Buckwheat, Saffron Buckwheat
Eriogonum fasciculatum * California Buckwheat
Eriogonum fasciculatum Warriner Lytle * Warriner Lytle California Buckwheat
Eriogonum giganteum * Saint Catherine's Lace
Eriogonum grande rubescens * Red Buckwheat
Eriogonum incanum * Frosted Buckwheat
Eriogonum parviflorum * Sea Cliff Buckwheat, Coastal Buckwheat
Eriogonum umbellatum * Sulphur Buckwheat
Eriogonum wrightii * Bastardsage, Wright's Buckwheat
Erysimum Bowles Mauve * Purple Wall Flower
Erythrina humeana raja * Dwarf Natal Coral Tree
Escallonia Fradesii * Pink Escallonia
Eucalyptus macrocarpa * Mottlecah
Euphorbia characias wulfenii * Mediterranean Spurge
Euphorbia characias Tasmanian Tiger * Variegated Spurge
Euphorbia cotinifolia * Caribbean Copper Plant
Euphorbia tirucalli Sticks on Fire * Red Pencil Tree
Euphorbia xanti * Baja Spurge, Confetti Flower
Euryops virgineus * Honey Euryops
Fagonia laevis * California Fagonbush
Fouquieria splendens * Occotillo
Fremontodendron californicum * Fremontea
Fremontodendron Ken Taylor * Ken Taylor Flannel Bush
Fuchsia arborescens * Tree Fuchsia
Fuchsia corymbiflora * Peruvian Berry Bush
Fuchsia gartenmeister Bonstedt
Fuchsia thymifolia * Thyme Leafed Fuchsia
Fuchsia thymifolia variegata * Variegated Thyme Leafed Fuchsia
Galium angustifolium * Narrow Leaved Bedstraw
Galvezia speciosa * Island Snapdragon
Galvezia speciosa Firecracker * Firecracker Island Snapdragon
Gambelia speciosa * Island Snapdragon
Garrya eliptica * Coast Tassel Bush
Garrya flavescens * Ashy Silktassel
Gaura Dark Pink * Dark Pink Wand Flower
Gaura lindheimeri * Bee Blossom
Gaura Passionate Rainbow * Passionate Rainbow Wand Flower
Globularia indubia * Globe Daisy
Gossypium barbadense * Tree Cotton
Grevillea alpina * Mountain Grevillea
Grevillea Bonfire * Bonfire Grevillea
Grevillea Gilt Dragon * Gilt Dragon Grevillea
Grevillea juniperina Molonglo * Molonglo Grevillea
Grevillea lanigera Coastal Gem * Coastal Gem Grevillea
Grevillea King's Rainbow * King's Rainbow Grevillea
Grevillea Long John * Long John Grevillea
Grevillea Magic Lantern * Magic Lantern Grevillea
Grevillea Moonlight * Moonlight Grevillea
Grevillea noellii * Noel's Grevillea
Grevillea paniculata * Spider Flower
Grevillea Peaches and Cream * Peaches and Cream Grevillea
Grevillea Pink Pearl * Pink Pearl Grevillea
Grevillea Poorinda Blondie * Yellow Toothbrush Grevillea
Grevillea Red Hooks * Red Hooks Grevillea
Grevillea Robyn Gordon * Robyn Gordon Grevillea
Grevillea Ruby Clusters * Ruby Clusters Grevillea
Grevillea Scarlet Sprite * Scarlet Sprite Grevillea
Grevillea victoriae * Royal Grevillea
Grevillea White Wings * White Wings Grevillea
Greyia sutherlandii * Natal Bottlebrush
Grindelia camporum * Great Valley Gumweed, Great Valley Gumplant
Grindelia robusta * Great Valley Gumweed, Great Valley Gumplant
Hakea laurina * Pin Cushion Bush
Halimiocistus wintonensis Merrist Wood Cream
Halimium calycinum * Yellow Rockrose
Hamelia patens * Firebush
Hebe Silver Beads
Helianthemum scoparium * Sunrose, Peak Rushrose
Helichrysum petiolare * Licorice Plant
Helichrysum petiolare Limelight * Limelight Licorice Plant
Heliotropium arborescens * Heliotrope
Heliotropium arborescens alba * White Heliotrope
Heliotropium Black Beauty * Black Beauty Heliotrope
Hibiscus sabdariffa * Roselle
Hibiscus syriacus Jeanne D'Arc * Double White Rose of Sharon
Hibiscus syriacus Lavender Chiffon * Lavender Chiffon Rose of Sharon
Hibiscus syriacus Minerva * Minerva Rose of Sharon
Holodiscus discolor * Cream Bush
Hydrangea quercifolia * Oak Leaf Hydrangea
Hydrangea quercifolia Alison * Alison Oak Leaf Hydrangea
Hydrangea quercifolia Sikes Dwarf * Sikes Dwarf Oak Leaf Hydrangea
Hydrangea serrata * Lace Hydrangea, Mountain Hydrangea, Tea of Heaven
Hypoestes aristata * Ribbon Bush
Hyptis emoryi Silver Lining * Desert Lavender
Ilex Red Beauty * Red Beauty Holly
Iochroma cyaneum * Blue Angel's Trumpet
Iochroma cyaneum violacea * Purple Angel's Trumpet
Iochroma fuchsioides * Red Angel's Trumpet, Cloud Forest Burning Bush
Iochroma grandiflora * Blue Angel's Trumpet
Iresine herbstii * Bloodleaf
Isocoma menziesii * Coastal Goldenbush
Isomeris arborea * Bladderpod
Isoplexis canariensis * Canary Island Fox Glove
Ixora coccinea Maui Red * Jungle Geranium
Jasminum angulare * South African Jasmine
Juniperus conferta * Shore Juniper
Justicia aurea * Yellow Jacobinia
Justicia californica * Chuparosa
Justicia californica Tecate Gold * Tecate Gold Chuparosa
Justicia carnea * Brazilian Plume Plant
Justicia coccinea * Firespike
Justicia dicliptera * Hummingbird Bush
Justicia Fruit Salad * Fruit Salad Shrimp Plant
Justicia fulvicoma * Mexican Plume
Justicia Jambalaya * Jambalaya Dwarf Shrimp Plant
Justicia leonardii * Orange Justicia
Justicia rizzinii * Firecracker Flower
Kalanchoe beharensis * Velvet Elephant Ear
Keckiella antirrhinoides * Yellow Bush Penstemon, Snapdragon Penstemon, Chaparral Beardtongue
Keckiella breviflora * Yawning Penstemon
Keckiella cordifolia * Bush Penstemon
Keckiella ternata * Blue Stemmed Penstemon, Scarlet Keckiella, Summer Bush Penstemon
Krameria bicolor * White Rhatany
Lagerstroemia Crimson Red * Crimson Red Crape Myrtle
Lantana Luscious Citrus Blend
Lantana variegata Lemon Swirl
Lavandula allardii Meerlo * Variegated Allard's Lavender
Lavandula angustifolia Hidcote * Hidcote English Lavender
Lavandula dentata * French Lavender
Lavandula dentata candicans * Gray Leaved French Lavender
Lavandula Goodwin Creek Grey * Goodwin Creek Grey Lavender
Lavandula heterophylla * Sweet Lavender
Lavandula intemedia Fred Boutin * Fred Boutin Lavandin
Lavandula intermedia Grosso * Lavandin Grosso
Lavandula intermedia Provence * Blue Lavandin, Lavandin Provence
Lavandula multifida * Fern Leaf Lavender
Lavandula pinnata buchii * Jagged Lavender
Lavandula stoechas var pedunculatus Atlas * Atlas Spanish Lavender
Lavandula stoechas Coco Blue White * Coco Blue White Spanish Lavender
Lavandula stoechas Javelin Forte White * Javelin Forte White Spanish Lavender
Lavandula stoechas Madrid Purple * Madrid Purple Spanish Lavender
Lavandula stoechas Otto Quast * Otto Quast Spanish Lavender
Lavandula stoechas Silver Anouk * Silver Anouk Spanish Lavender
Lavatera assurgentiflora * Tree Mallow
Lavatera Barnsley
Lavatera bicolor * Bush Mallow
Lavatera purisima * Island Mallow
Leonotis leonurus * Lion's Tail
Leonotis leonurus White * White Lion's Tail
Leonotis menthifolia * Dwarf Lion's Tail
Lepechinia calycina * White Pitcher Sage, California Pitcher Sage, Woodbalm
Lepechinia fragrans El Tigre * El Tigre Pitcher Sage, Island Pitcher Sage, Fragrant Pitcher Sage
Lepechinia hastata * Mexican Pitcher Sage
Lepechinia salviae * Chilean Pitcher Sage
Leptodactylon californicum * Prickly Phlox
Leptospermum rotundifolium * Round Leaf Tea Tree
Leptospermum scoparium Helene Strybing * Helene Strybing New Zealand Tea Tree
Leucadendron discolor * Flame Tips
Leucadendron Ebony * Ebony Conebush
Leucadendron Jester * Sunshine Conebush
Leucadendron Safari Goldstrike * Yellow Cone Bush, Safari Goldstrike Cone Bush
Leucadendron Safari Sunset * Safari Sunset Cone Bush
Leucadendron Silvan Red * Silvan Red Conebush
Leucophyllum candidum * Violet Silver Leaf Sage
Leucophyllum frutescens * Texas Ranger
Leucophyllum Green Cloud * Green Cloud Texas Ranger
Leucophyllum laevigatum * Chihuahuan Sage
Leucospermum cordifolium Yellow Bird * Nodding Pincushion, Yellowbird Pincushion
Leucospermum glabrum Veldfire * Veldfire Pincushion
Lobelia excelsa * Devil's Tobacco
Lonicera ciliosa * Orange Honeysuckle, Western Trumpet Honeysuckle
Lonicera involuctrata * Twinberry
Lonicera japonica * Japanese Honeysuckle
Lonicera subspicata denudata * Chaparral Honeysuckle
Loropetalum chinense * White Fringe Flower
Loropetalum chinense Blush * Blush Fringe Flower
Loropetalum chinense Burgundy * Burgundy Fringe Flower
Lupinus albifrons * Silver Bush Lupine
Lupinus chamissonis * Dune Bush Lupine, Chamisso Bush Lupine
Lupinus exubitus * Grape Soda Lupine
Mahonia nevinii * Nevin's Barberry
Mahonia trifoliolata * Trifoliate Barberry
Maireana sedifolia * Pearl Bluebush
Makaya bella * Forest Bell Bush
Malacothamnus clementinus * San Clemente Bush Mallow
Malacothamnus davidsonii * Davidson's Bush Mallow
Malacothamnus densiflorus * Yellow Stem Bush Mallow
Malacothamnus fasciculatus * Chaparral Bush Mallow
Malosma laurina * Laurel Sumac
Malvaviscus arboreus * Turk's Cap, Sleepy Hibiscus, Sleeping Mallow, Wax Hibiscus
Melaleuca alternifolia * Tea Tree
Melaleuca elliptica* Granite Honey Myrtle
Melaleuca hypericifolia * Hillock Bush
Melaleuca incana * Gray Honey Myrtle
Melianthus major * Honey Bush
Michelia figo * Banana Shrub
Michelia yunnanensis * Magnolia dianica
Mimulus aurantiacus * Sticky Monkeyflower
Mimulus flemingii * Island Monkeyflower
Mimulus Georgie Red * Georgie Red Monkeyflower
Mimulus Jack * Jack Monkeyflower
Mimulus Jelly Bean Dark Pink * Jelly Bean Dark Pink Monkeyflower
Mimulus Jelly Bean Orange * Jelly Bean Orange Monkeyflower
Mimulus longiflorus * Southern Bush Monkeyflower
Mimulus Midnight * Midnight Monkeyflower
Mimulus puniceus * Red Monkeyflower
Mimulus Ruby Silver * Ruby Silver Monkey Flower
Mirabilis californica * Wishbone Bush
Mirabilis laevis crassifolia * California Four O'Clock, Wishbone Bush
Mirabilis laevis villosa * Desert Wishbone Bush
Montanoa grandiflora * Daisy Tree
Myrica caliifornica * Pacific Wax Myrtle
Myrtus communis variegata * Variegated Myrtle
Ochna serrulata * Mickey Mouse Plant
Ocimum labiatum * Shell Bush, Pink Sage, Pink Cat's Whiskers
Orthosiphon labiatum * Shell Bush, Pink Sage, Pink Cat's Whiskers
Odontonema strictum * Fire Spike
Osmanthus fragrans * Sweet Olive
Pachystachys lutea * Golden Shrimp Plant, Lollypop Plant
Pavonia missionum * Red Mallow
Pavonia praemorsa * Yellow Mallow
Pelargonium cordifolium * Heartleaf Geranium
Pelargonium graveolens * Rose Geranium
Perovskia atriplicifolia * Russian Sage
Phlomis fruticosa * Jerusalem Sage
Phlomis lanata * Woolly Jerusalem Sage
Phlomis purpurea * Purple Jerusalem Sage
Phylica pubescens * Featherhead
Pickeringia montana * Chaparral Pea
Pimelea ferruginea * Pink Rice Flower
Plecostachys serpyllifolia * Cobweb Bush, Petite Licorice
Plumbago auriculata * Cape Plumbago
Plumeria Celadine * Yellow-White Frangipani
Poliomintha longifolia * Mexican Oregano
Polygala dalmaisiana * Sweet Pea Shrub
Polygala myrtifolia grandifolora * Sweet Pea Shrub
Prostanthera ovalifolia * Mint Bush
Protea magnifica * Queen Protea
Prunus andersonii * Desert Peach, Desert Almond
Prunus ilicifolia * Holly Leaf Cherry
Prunus ilicifolia ssp. lyonii * Catalina Cherry
Psoralea pinnata * African Scurfpea
Psorothamnus schottii * Schott's Indigo Bush
Puya alpestris * Sapphire Tower
Quercus garryana * Brewers Oak
Raphiolepsis indica Springtime * Springtime Indian Hawthorn
Reinwardtia indica * Yellow Flax
Rhamnus californicus Eve Case * Coffee Berry
Rhamnus crocea * Red Berry
Rhus integrifolia * Lemonade Berry
Rhus laurina * Laurel Sumac
Rhus ovata * Sugar Bush
Ribes aureum * Golden Currant
Ribes malvaceum * Chaparral Currant
Ribes malvaceum viridifolium Ortega Beauty * Ortega Beauty Chaparral Currant
Ribes speciosum * Fuchsia Flowered Currant
Ribes viburnifolium * Evergreen Currant, Catalina Currant
Rosa californica * California Wild Rose
Rosa hugonis * Father Hugo's Rose
Rosa laevigata * Cherokee Rose
Rosa minutifolia * Baja Rose, Littleleaf Rose
Rosa mutabilis * Butterfly Rose
Russelia equisetiformis * Firecracker Plant
Russelia equisetiformis aurea * Yellow Firecracker Plant
Salvia List
Salvia adenophora * Oaxaca Red Sage
Salvia africana lutea * Golden Sage, Dune Sage
Salvia Allen Chickering * Allen Chickering Sage
Salvia apiana * White Sage
Salvia brandegeei * Brandegee's Sage, Santa Rosa Island Sage
Salvia buchananii * Buchanan's Sage, Fuchsia Sage
Salvia canariensis * Canary Island Sage
Salvia candelabrum * Candelabra Sage
Salvia Celestial Blue * Celestial Blue Sage
Salvia chamaedryoides * Germander Sage
Salvia chamaedryoides Marine Blue * Marine Blue Germander Sage
Salvia chiapensis * Chiapas Sage
Salvia chionopeplica * Baja Sage
Salvia clevelandii * Cleveland Sage
Salvia clevelandii Winnifred Gilman * Blue Sage, Winnifred Gilman Sage
Salvia coahuilensis * Coahuila Sage
Salvia confertiflora * Red Velvet Sage
Salvia Dancing Dolls * Dancing Dolls Autumn Sage
Salvia darcyi * Fiery Sage
Salvia Desperado * Desperado Sage
Salvia dorisiana * Peach Sage, Fruit Scented Sage
Salvia dorrii dorrii * Purple Desert Sage
Salvia elegans * Pineapple Sage
Salvia flocculosa Ecuador * Ecuador Sage
Salvia Golden Girl * Golden Girl Sage
Salvia Green Carpet * Green Carpet Creeping Sage
Salvia greggii alba * White Autumn Sage
Salvia greggii Annie * Annie Autumn Sage, Pink Autumn Sage
Salvia greggii Dancing Dolls * Dancing Dolls Autumn Sage
Salvia greggii Desert Blaze * Desert Blaze Autumn Sage
Salvia greggii Furman's Red * Furman's Red Autumn Sage
Salvia greggii La Playa Rosa * De La Rosa Autumn Sage
Salvia greggii Heatwave Glimmer * Heatwave Glimmer Autumn Sage
Salvia greggii San Takao * San Takao Autumn Sage
Salvia greggii Sierra del San Antonio * Sierra del San Antonio
Salvia gesneriiflora * Mexican Scarlet Sage
Salvia guaranitica Argentine Skies * Argentine Skies Sage
Salvia guaranitica Costa Rica Blue * Anise Scented Sage, Costa Rica Blue Sage
Salvia guaranitica Purple Majesty * Purple Majesty Sage
Salvia Indigo Spires * Indigo Spires Sage
Salvia involucrata * Rose Leaf Sage
Salvia iodantha * Mexican Fuchsia Sage
Salvia karwinskii * Karwinski's Sage
Salvia lanceolata * Rocky Mountain Sage
Salvia lemmonii * Lemmon's Sage
Salvia leucantha * Mexican Sage
Salvia leucantha Danielle's Dream * Danielle's Dream Mexican Sage
Salvia leucantha Midnight * Purple Mexican Sage
Salvia leucantha Santa Barbara * Santa Barbara Mexican Sage
Salvia leucantha White Mischief * White Mischief Mexican Sage
Salvia leucophylla Amethyst Bluff * Amethyst Bluff Purple Sage
Salvia leucophylla Bee's Bliss * Bee's Bliss Sage
Salvia leucophylla Point Sal * Trailing Purple Sage
Salvia madrensis * Forsythia Sage
Salvia Maraschino * Maraschino Sage
Salvia melissodora * Grape Scented Sage
Salvia mellifera * Black Sage
Salvia mellifera Green Carpet * Green Carpet Creeping Sage
Salvia mellifera Skylark * Skylark Sage
Salvia mellifera Terra Seca * Dwarf Black Sage, Terra Seca Sage
Salvia mexicana Limelight * Limelight Sage
Salvia microphylla * Cherry Sage
Salvia microphylla Berzerkeley * Berzerkeley Sage
Salvia microphylla Dark Dancer * Dark Dancer Sage
Salvia microphylla Heatwave Glimmer * Heatwave Glimmer Sage
Salvia microphylla Hot Lips * Hotlips Sage
Salvia muelleri * Royal Purple Autumn Sage
Salvia muirii * Wild Sage
Salvia munzii * Munz's Sage, San Diego Sage
Salvia munzii Emerald Cascade * San Miguel Mountain Sage, Munz's Sage
Salvia officinalis Tricolor * Tricolored Culinary Sage
Salvia Pozo Blue * Pozo Blue Sage
Salvia regla * Mountain Sage
Salvia riparia * Creeping Sage
Salvia semiatrata * Pine Mountain Sage
Salvia sonomensis Green Carpet * Green Carpet Creeping Sage
Salvia sonomensis Dara's Choice * Dara's Choice Creeping Sage
Salvia sonomensis Mrs Beard * Mrs Beard Creeping Sage
Salvia urica * Blue Bush Sage
Salvia wagneriana * Wagner's Sage
Salvia Waverly * Waverly Sage
Sambucus mexicana * Mexican Elderberry
Sambucus nigra Black Lace * Black Lace Elderberry
Santolina chamaecyparissus * Lavender Cotton
Santolina pinnata neapolitana Lemon Queen * Pinnate Lavender Cotton, Lemon Queen Lavender Cotton
Santolina virens * Green Lavender Cotton
Scutellaria mexicana * Paperbag Bush, Mexican Bladder Sage
Senna artemesioides * Silver Cassia
Senna purpusii * Baja California Senna
Skytanthus acutus * Cuerno De Cabra
Solanum hindsianum * Hind's Nightshade, Sonoran Nightshade, Mariola
Solanum umbelliferum * Blue Witch Nightshade
Solanum xanti Mountain Pride * Mountain Pride Purple Nightshade
Sollya heterophylla * Bluebell Creeper
Sphaeralcea ambigua * Desert Mallow, Apricot Globemallow
Sphaeralcea ambigua Louis Hamilton * Louis Hamilton Apricot Mallow
Sphaeralcea ambigua rosacea * Rosy Apricot Mallow, Rose Globemallow
Sphaeralcea fulva La Luna * La Luna Globemallow, White Mallow
Sphaeralcea philippiana * Trailing Globemallow
Spiraea cantoniensis * Bridal Wreath Spiraea, Reeves Spiraea
Streptosolen jamesonii * Marmalade Bush
Strobilanthes gossypina * Pewter Bush
Syringa hyacinthiflora California Rose * California Rose Lilac
Syringa hyacinthiflora Excel * Excel Lilac
Tagetes lemmonii * Bush Marigold
Tecoma Orange Jubilee * Orange Jubilee Trumpet Bush
Tecoma X Smithii * Orange Bells
Tecoma stans * Yellow Trumpet Bush
Teucrium fruticans azureum * Bush Germander
Tibouchina heteromalla * Silver Leafed Princess Flower
Tibouchina urvilleana * Princess Flower
Trichostema lanatum * Wooly Blue Curls
Trichostema Midnight Magic * Midnight Magic Blue Curls
Viburnum macrocephalum * Chinese Snowball Viburnum
Viburnum tinus compactum * Arrowwood
Vitex agnus castus * Chaste Tree
Vitex rotundifolia * Beach Vitex, Round Leaf Vitex
Vitex trifolia purpurea * Arabian Lilac
Westringia brevifolia * Small Leaf Westringia
Westringia fruticosa Morning Light * Coast Rosemary