Deer Resistant Plants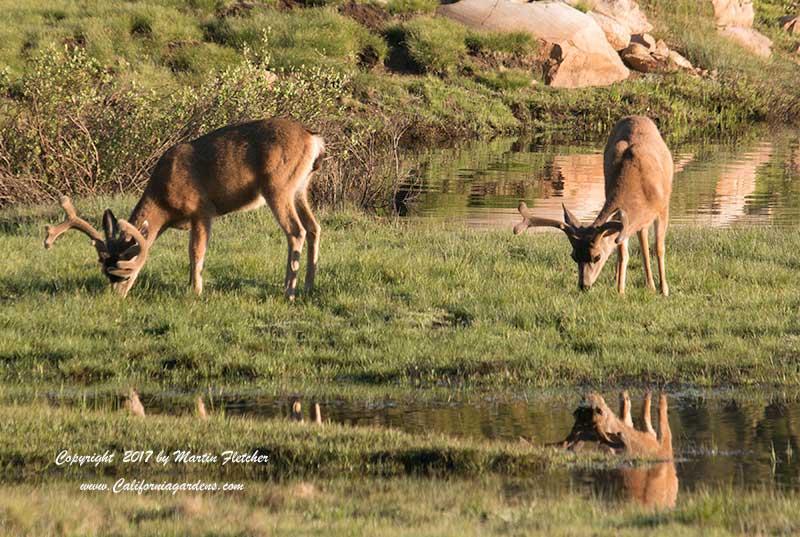 Deer resistance for plants is only a matter of degree for the most part. Those deer look so innocent when grazing in a field. But when they are hungry enough deer will browse almost anything but the most toxic of plants. Rose gardens that never have flowers are the norm in deer country. Zoo Doo, blood meal, lion pee, tall fences and more have been employed to discourage deer. Castor oil and any number of bitter tonics can be sprayed on foliage, this may work for a time but must be reapplied and will ultimately be ignored if the deer are hungry enough. If the fence route is chosen 10 feet or more might work. A long time successful vegetable gardener living in deer country said that a 10 foot fence made with shade cloth draped over a cable worked superbly. The movement of the loose shadecloth in the breeze and the fact that the deer could not see where they would land was enough to stop the deer from entering his vegetable garden. And for the people, they could just push through the curtain of shadecloth. If this sounds to you like it might be both potentially effective and supremely unsightly you are not alone. But for some the thought of fresh vegetables is enough to put up with almost anything. If deer manage to get in to your fenced garden the results are often catastrophic for the deer as well as the garden when you try to encourage them to leave, even if a gate is left open they often panic. Maybe the best chance you have for a deer free garden is for your neighbor down the street to be a determined rose grower. Note that the deer is jumping over the barbed wire part of the fence instead of the safety zone with the wooden top rail.
The following is our list of plants that we have found to be among the last that the deer choose to eat in a garden.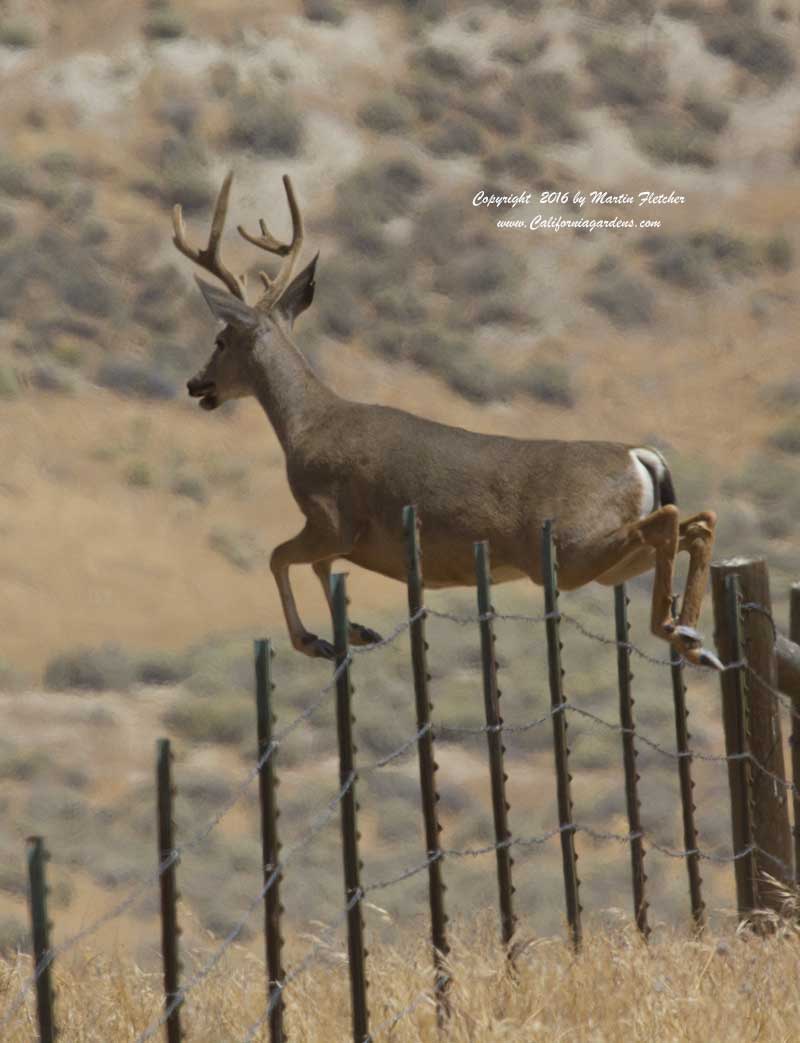 Deer Resistant Plants
Abelia grandiflora * Glossy Abelia
Abelia grandiflora kaleidoscope
Acacia baileyana purpurea * Purple Fernleaf Acacia
Acacia boormanii * Snowy River Wattle
Acacia chinchillensis * Chinchilla Wattle
Acacia cognata * River Wattle
Acacia Cousin Itt * Little River Wattle
Acacia covenyi * Blue Bush Acacia
Acacia cultriformis * Knifeleaf Wattle, Knife Wattle, Dogtooth Wattle
Acacia dealbata * Silver Wattle
Acacia glaucoptera * Flat Wattle
Acacia iteaphylla * Willow Wattle, Flinder's Range Wattle
Acacia podalariifolia * Pearl Acacia
Acacia pravissima * Ovens Wattle
Acacia spectabilis * Mudgee Wattle
Acacia stenophylla * Shoestring Acacia
Acacia vestita * Hairy Wattle
Acer macrophyllum * Bigleaf Maple
Acer negundo * California Box Elder
Acer saccharinum * Silver Maple
Achillea clavennae * Silver Yarrow
Achillea Coronation Gold * Fernleaf Yarrow
Achillea hoffnung * Hoffnung Yarrow
Achillea kellereri * Yarrow
Achillea lanulosa * Mountain Yarrow
Achillea millefolium Apple Blossom * Apple Blossom Yarrow
Achillea millefolium Cerise Queen * Cerise Queen Yarrow
Achillea millefolium Paprika * Paprika Yarrow
Achillea millefolium Pomegranate * Pomegranate Yarrow
Achillea millefolium Salmon Beauty * Salmon Beauty Yarrow
Achillea millefolium Sonoma Coast * Sonoma Coast Yarrow
Achillea millefolium Terracotta * Terracotta Yarrow
Achillea millefolium The Beacon * The Beacon Yarrow
Achillea taygetea Moonshine * Moonshine Yarrow
Achillea ptarmica * Pearl Yarrow
Achillea tomentosa * Wooly Yarrow
Aesculus californica * California Buckeye
Agapanthus Storm Cloud
Agastache Apricot Sprite * Apricot Sprite Hyssop
Agastache aurantiaca Apricot Sunrise * Apricot Sunrise Hyssop
Agastache foeniculum * Anise Hyssop
Agastache Kudos Coral * Kudos Coral Hummingbird Mint
Agastache Raspberry Summer * Raspberry Summer Hyssop
Agastache Tutti Frutti * Tutti Frutti Hummingbird Mint
Agave Blue Flame
Ajuga Catlin's Giant * Catlin's Giant Bugleweed
Ajuga Chocolate Chip * Chocolate Chip Bugleweed
Albizia julibrissin * Silk Tree
Albizia Summer Chocolate * Summer Chocolate Silk Tree
Allium howellii var howellii * Howell's Onion
Amsinkia tessellata * Bristly Fiddleneck, Devil's Lettuce
Anchusa capensis * Summer Forget Me Not
Anemone japonica Alice * Japanese Anemone Alice
Anemone japonica Honorine Jobert * Japanese Anemone Honorine Jobert
Anemone Prince Henry * Double Pink Japanese Anemone, Prince Henry Windflower
Anemone japonica September Charm * Japanese Anemone September Charm
Anemone japonica Whirlwind * Japanese Anemone Whirlwind
Antirrhinum hispanicum * Spanish Snapdragon
Antirrhinum multiflorum * Sticky Snapdragon
Apocynum cannabinum * Dogbane, Indian Hemp
Aquilegia caerulea * Rocky Mountain Columbine
Aquilegia chrysantha * Golden Columbine, Southwestern Columbine, Yellow Columbine
Aquilegia formosa * Crimson Columbine
Araujia sericifera * Bladder Vine, Cruel Vine, Moth Vine
Armeria maritima * Thrift
Arrhenatherum elatius bulbosum variegatum * Bulbous Oat Grass
Artemisia absinthium * Absinthe
Artemisia californica * California Sagebrush
Artemisia David's Choice * Sandhill Sage
Artemisia douglasiana * Mugwort
Artemisia frigida * Prarie Sage
Artemisia Huntington * Huntington Wormwood
Artemisia Powis Castle * Powis Castle Wormwood
Artemisia Silver King * Silver King Sagebrush
Artemisia Valerie Finnis * Valerie Finnis Sagebrush
Artemisia vulgaris * Mugwort
Arum palaestinum * Black Calla Lily, Solomon's Lily, Palestine Lily
Asclepias angustifolia * Arizona Milkweed
Asclepias californica * California Milkweed
Asclepias cordifolia * Purple Milkweed
Asclepias curassavica * Tropical Milkweed, Bloodweed
Asclepias curassavica Red Butterflies * Red Butterflies Tropical Milkweed
Ascelpias curassavica Silky Gold * Butterflyweed, Tropical Milkweed
Asclepias eriocarpa * Wooly Milkweed
Asclepias erosa * Desert Milkweed
Asclepias fascicularis * Narrow Leaf Milkweed
Asclepias linaria * Pine Leaf Butterflyweed
Asclepias speciosa * Showy Milkweed
Asclepias tuberosa * Butterflyweed, Butterfly Milkweed
Aster chilensis * California Aster, Pacific Aster
Aster Chilensis Purple Haze * Purple Haze California Aster, Purple Haze Pacific Aster
Berberis thunbergia atropurpurea * Red Japanese Barberry
Bergenia Bressingham Ruby
Bergenia crassifolia * Winter Blooming Bergenia
Brachyscome multifida * Cut Leaf Daisy
Brugmansia Betty Marshall * Betty Marshall Trumpet Tree, White Trumpet Tree
Brugmansia Charles Grimaldi * Charles Grimaldi Trumpet Tree, Gold Angel's Trumpet Tree
Brugmansia candida * Angel's Trumpet Tree
Buddleia Black Knight * Black Knight Butterfly Bush
Buddleia Color Crush * Color Crush Butterfly Bush
Buddleia Harlequin * Harlequin Butterfly Bush
Buddleia Honeycomb * Honeycomb Butterfly Bush
Budleia lindleyana * Weeping Butterfly Bush
Buddleia Lochinch * Lochinch Butterfly Bush
Buddleia marrubifolia * Woolly Butterfly Bush
Buddleia Miss Molly * Miss Molly Butterfly Bush
Buddleia Nanho Purple * Nanho Purple Butterfly Bush
Buddleia Pink Delight * Pink Delight Butterfly Bush
Buddleia White Profusion * White Profusion Butterfly Bush
Calendula Zeolights
Calicarpa
Calycanthus occidentalis * Spice Bush
Calylophus drummondianus * Texas Primrose
Calystegia malacophylla * Jepson's Morning Glory, Woolly Morning Glory
Cammasia quamash * Camas
Campanula haylodgensis * Haylodge Bell Flower
Campanula medium calycanthema * Cup and Saucer
Campanula portenschlagiana * Dalmatian Bell Flower
Campanula poscharskyana * Serbian Bell Flower
Campanula poscharskyana alba * White Serbian Bell Flower
Campanula rotundifolia * Harebell
Campanula Sarastro * Sarastro Bell Flower
Campsis radicans * Trumpet Creeper
Canna Durban * Durban Canna Lily
Canna Lucifer * Lucifer Canna Lily
Canna Tropicanna Black * Tropicanna Black Canna Lily
Carex buchananii * Leather Leaf Sedge
Carex comans Green * New Zealand Hair Sedge
Carex flacca * Blue Sedge, Heath Sedge
Carex morrowii * Variegated Sedge
Carex oshimensis Evergold * Evergold Sedge, Variegated Japanese Sedge
Carex praegracilis * Clustered Field Sedge
Carex testacea * Orange Sedge
Carex tumulicola * Split Awn Sedge
Carpenteria californica * California Anemone
Caryopteris incana * Blue Beard
Caryopteris Longwood Blue
Catalpa speciosa * Northern Catalpa
Ceanothus Anchor Bay * Point Reyes Ceanothus
Ceanothus burtonensis Far Horizons * Far Horizons California Lilac
Ceanothus Centennial * Centennial California Lilac
Ceanothus Concha * Concha California Lilac
Ceanothus crassifolius * Hoary California Lilac
Ceanothus Dark Star * Dark Star California Lilac
Ceanothus Frosty Dawn * Frosty Dawn California Lilac
Ceanothus Gentian Plume * Gentian Plume California Lilac
Ceanothus greggii * Desert Ceanothus
Ceanothus hearstiorum * Hearst's California Lilac
Ceanothus Joan Mirov * Joan Mirov California Lilac
Ceanothus Joyce Coulter * Joyce Coulter California Lilac
Ceanothus megacarpus * Bigpod California Lilac
Ceanothus Point Sierra * Point Sierra Maritime Ceanothus
Ceanothus Ray Hartman * Ray Hartman California Lilac
Ceanothus rigidus Sierra Snow * Sierra Snow California Lilac
Ceanothus Snow Flurry * Snow Flurry California Lilac
Ceanothus sorediatus * Jim Brush
Ceanothus Tassajara Blue * Tassajara Blue California Lilac
Ceanothus Valley Violet * Valley Violet Maritime Ceanothus
Ceanothus Wheeler Canyon * Wheeler Canyon California Lilac
Ceanothus Yankee Point * Yankee Point California Lilac
Centaurea cyanus * Bachelor Button
Centaurea cyanus Black Gem * Black Gem Bachelor Button
Centaurea gymnocarpa * Pink Dusty Miller
Centaurea montana * Perennial Bachelor's Buttons, Mountain Bluet
Centranthus ruber * Red Valerian
Cerastium tomentosum * Snow in Summer
Ceratostigma plumbaginoides * Leadwort, Dwarf Plumbago
Ceratostigma wilmottianum * Chinese Plumbago
Cercis Forest Pansy * Eastern Redbud
Cercis occidentalis * Western Redbud
Chasmanthium
Chrysactinium mexicanum * Damianita
Chrysanthemum superbum * Shasta Daisy
Cistus Bennett's White * White Rockrose
Cistus Blanche * White Rockrose
Cistus Grayswood Pink * Grayswood Pink Rockrose
Cistus maculatus * Brown Eyed Rockrose
Cistus purpureus * Purple Rockrose, Orchid Rockrose
Cistus salviifolius * Sageleaf Rockrose
Cistus Second Honeymoon * Variegated Rockrose
Cistus skanbergii * Pink Rockrose
Cistus Sunset * Magenta Rockrose
Clematis armandii * Evergreen Clematis
Clematis lasiantha * Pipestems, Chaparral Clematis
Clematis ligusticifolia * Creek Clematis, Virgin's Bower
Coreopsis Flying Saucers
Coreopsis gigantea * Giant Coreopsis
Coreopsis grandiflora * Tickseed
Coreopsis Moonbeam * Threadleaf Tickseed
Coreopsis nana * Mouse Ear Coreopsis
Coreopsis Sunray * Tickseed
Cornus nuttallii * Mountain Dogwood
Cornus sericea * Red Osier Dogwood
Cosmos atrosanguineus * Chocolate Cosmos
Cosmos sulphereus * Sulphur Cosmos
Cotinus coggygria * Smoke Tree
Cotoneaster
Crocosmia lucifer
Crocosmia solfatare
Dahlia imperialis * Tree Dahlia
Datura wrightii * Jimson Weed
Delphinium cardinale * Scarlet Larkspur
Delphinium occidentale * Western Larkspur, Duncecap Larkspur
Delphinium purpusii * Kern County Larkspur, Rose Flowered Larkspur
Deuterocohnia brevifolia
Dianthus Moonglow
Dianthus spotty
Diascia integerrima * Twinspur
Dicentra chrysantha * Golden Eardrops
Dicentra formosa * Bleeding Heart
Dietes bicolor * Yellow Wild Iris, African Iris
Dietes grandiflora * Fortnight Lily
Digitalis ferruginea * Rusty Foxglove
Digitalis Illumination Flame * Illumination Flame Foxglove
Digitalis mertonensis * Strawberry Foxglove
Digitalis purpurea heywoodii Silver Fox * Silver Fox Foxglove
Drimia maritima, Urginea maritima * Sea Squill
Dryopteris arguta * Coastal Wood Fern
Dudleya anomala
Dudleya brittonii * Giant Chalk Dudleya
Dudleya caespitosa * Sea Lettuce
Dudleya candelabrum * Candleholder Liveforever
Dudleya farinosa * Bluff Lettuce, Cliff Lettuce
Dudleya guadalupensis
Dudleya hassei * Catalina Liveforever
Dudleya lanceolata * Lance Leaf Liveforever
Dudleya pulverulenta * Chalk Liveforever
Dudleya traskiae * Santa Barbara Island Liveforever
Echinacea Cheyenne Spirit * Cheyenne Spirit Cone Flower
Echinacea purpurea * Purple Cone Flower
Echinacea Salsa Red * Salsa Red Cone Flower
Echinacea Sunset * Sunset Cone Flower
Echinacea White Swan * White Swan Cone Flower
Ehrendorferia chrysantha * Golden Eardrops
Elaeagnus pungens * Russian Olive
Eriobotrya deflexa * Bronze Loquat
Eriogonum crassifolium * Felt Leaved Yerba Santa
Eriodictyon tomentosum * Woolly Yerba Santa
Eriogonum arborescens * Santa Cruz Island Buckwheat
Eriogonum cinereum * Ashy Leaf Buckwheat
Eriogonum crocatum * Saffron Buckwheat
Eriogonum fasciculatum * California Buckwheat
Eriogonum fasciculatum Warriner Lytle * Warriner Lytle California Buckwheat
Eriogonum giganteum * Saint Catherine's Lace
Eriogonum grande rubescens * Red Buckwheat
Eriogonum incanum * Frosted Buckwheat
Eriogonum latifolium * Seaside Buckwheat, Coast Buckwheat
Eriogonum parviflorum * Sea Cliff Buckwheat, Coastal Buckwheat
Eriogonum umbellatum * Sulphur Buckwheat
Eriogonum wrightii * Bastardsage, Wright's Buckwheat
Epilobium incanum * California Fuchsia
Eryngium planum * Blue Eryngo, Flat Sea Holly
Eryngium variifolium * Moroccan Sea Holly
Eryngium yuccifolium * Button Eryngo, Rattlesnake Master
Escholtzia caespitosa * Tufted Poppy, Foothill Poppy
Escholtzia californica * California Poppy
Eschscholzia californica Carmine King * Carmine King California Poppy
Escholtzia White Linen * White Linen California Poppy
Eschscholzia minutiflora * Pygme Poppy
Eschscholzia parishii * Parish's Poppy
Euphorbia amygdaloides robbiae * Wood Spurge
Euphorbia Ascot Rainbow
Euphorbia Blackbird
Euphorbia characias wulfenii * Mediterranian Spurge
Euphorbia cotinifolia * Caribbean Copper Plant
Euphorbia cyathophora * Fire on the Mountain, Painted Leaf
Euphorbia leucodendron * Cat Tails Euphorbia
Euphorbia mammillaris variegata * Variegated Indian Corn Cob
Euphorbia milii * Crown of Thorns
Euphorbia myrsinites * Myrtle Spurge, Creeping Spurge, Donkeytail Spurge
Euphorbia Royal Velvet
Euphorbia Tasmanian Tiger * Variegated Spurge, Tasmanian Tiger Spurge
Euphorbia tirucalli Sticks on Fire * Red Pencil Tree
Euphorbia xanti * Baja Spurge
Festuca californica * California Fescue
Fritilaria biflora * Chocolate Lily
Gaillardia Arizona Apricot * Yellow Blanketflower
Gaillardia grandiflora * Blanketflower
Galanthus
Gaillardia grandiflora Mesa Red * Mesa Red Blanket Flower
Galium aparine * Bedstraw, Cleavers
Gelsemium sempervirens * Carolina Jessamine
Geranium Ballerina
Geranium Biokovo * Mountain Geranium
Geranium harveyi * Silver Geranium
Geranium incanum * Carpet Geranium
Geranium Johnson's Blue
Geranium cinereum Laurence Flatman * Laurence Flatman Geranium
Geranium macrorhizum album
Geranium maderense * Madiera Cranesbill
Geranium Mavis Simpson
Geranium Orion * Orion Geranium
Geranium renardii
Geranium richardsonii * Richardson's Geranium
Geranium Rozanne
Geranium sanguinium striatum
Geranium sessiliflorum nigricans * Dwarf Black Cranesbill
Geranium Stanhoe
Geranium wallichianum
Geum Totally Tangerine * Avens
Gomphocarpus fruticosus * Swan Milkweed, Narrow Leaf Cotton Plant
Gomphocarpus physocarpus * Family Jewels, Hairy Balls
Grevillea juniperina Molonglo * Molonglo Grevillea
Grevillea paniculata * Spider Flower
Grevillea Pink Pearl * Pink Pearl Grevillea
Grevillea Scarlet Sprite * Scarlet Sprite Grevillea
Grevillea White Wings * White Wings Grevillea
Halimium calycinum * Yellow Rockrose
Helichrysum Limelight * Limelight Licorice Bush
Helichrysum petiolare * Licorice Bush
Heliotropium arborescens * Heliotrope
Heliotropium arborescens album * White Heliotrope
Heliotropium Black Beauty * Black Beauty Heliotrope
Heliotropium curassavicum * Salt Heliotrope
Heliotropium curassavicum * Salt Heliotrope
Helleborus argutifolius * Corsican Hellebore, Holly Leaved Hellebore
Helleborus orientalis * Lenten Rose
Hemerocallis Stella de Oro * Dwarf Daylily
Heuchera Canyon Duet * Canyon Duet Coral Bells
Heuchera Firefly * Firefly Coral Bells
Heuchera maxima * Island Alum Root
Heuchera Palace Purple * Palace Purple Coral Bells
Heuchera Rosada * Rosada Coral Bells
Heuchera rubescens Yosemite * Yosemite Alumroot, Pink Alumroot
Heuchera Santa Ana Cardinal * Santa Ana Cardinal Coral Bells
Heuchera villosa Kassandra * Kassandra Coral Bells
Heuchera Wendy * Wendy Coral Bells
Heucherella Bridget Bloom * Foamflower
Hibiscus lasiocarpos * Wooly Rose Mallow
Hibiscus sabdarifa * Roselle
Hibiscus syriacus Jeanne D'Arc * Double White Rose of Sharon
Hibiscus syriacus Lavender Chiffon * Semi Double Pink Rose of Sharon
Holodiscus discolor * Cream Bush
Hydrangea quercifolia * Oak Leaf Hydrangea
Hydrangea quercifolia Alison * Oak Leaf Hydrangea Alison
Hydrangea serrata * Lace Hydrangea
Hydrangea Sikes Dwarf * Dwarf Oak Leaf Hydrangea
Iberis sempervirens * Candy Tuff
Iochroma cyaneum * Blue Angel's Trumpet
Iochroma cyaneum violacea * Purple Angel's Trumpet
Iochroma fuchsioides * Red Angel's Trumpet, Cloud Forest Burning Bush
Iochroma grandiflora * Blue Angel's Trumpet
Iris Black Gamecock * Black Gamecock Lousiana Iris
Iris douglasiana Dorothea's Ruby * Dorothea's Ruby Pacific Coast Hybrid Iris
Iris douglasiana Royal Peacock * Royal Peacock Pacific Coast Hybrid Iris
Iris hartwegii * Sierra Iris, Hartweg's Iris
Iris Nada * Butterfly Iris, Japanese Iris
Iris Pacific Coast Hybrids
Jasminum angulare * South African Jasmine
Jasminum polyanthemum * Pink Jasmine
Juglans californica * California Walnut
Juniperus conferta * Shore Juniper
Keckiella antirrhinoides * Yellow Bush Penstemon, Snapdragon Penstemon, Chaparral Beardtongue
Keckiella breviflora * Yawning Penstemon
Keckiella cordifolia * Bush Penstemon
Keckiella ternata * Blue Stemmed Penstemon, Scarlet Keckiella, Summer Bush Penstemon
Kniphofia Blaze * Blaze Red Hot Poker
Kniphofia Christmas Cheer * Christmas Cheer Red Hot Poker
Kniphofia Malibu Yellow * Malibu Yellow Poker
Kniphofia galpinii Orange Flame * Orange Flame Red Hot Poker
Kniphofia Rockette Yellow * Rockette Yellow Red Hot Poker
Kniphofia Shining Sceptre * Shining Sceptre Red Hot Poker
Lagerstroemia natchez * Natchez Crape Myrtle
Lamium maculatum Shell Pink * Spotted Dead Nettle
Lantana Luscious Citrus Blend
Lantana variegata Lemon Swirl
Lavandula X allardii Meerlo * Variegated Allard's Lavender
Lavandula angustifolia Hidcote * Hidcote English Lavender
Lavandula Atlas * Atlas Spanish Lavender
Lavandula Coco Blue White * Coco Blue White Spanish Lavender
Lavandula dentata * French Lavender
Lavandula dentata candicans * Gray Leaved French Lavender
Lavandula Goodwin Creek * Goodwin Creek Lavender
Lavandula Grosso * Lavendin Grosso
Lavandula heterophylla * Sweet Lavender
Lavandula Madrid Purple * Madrid Purple Spanish Lavender
Lavandula multifida * Fern Leaf Lavender
Lavandula Otto Quast * Otto Quast Spanish Lavender
Lavandula pinnata buchii * Jagged Lavender
Lavandula Provence * Lavendin Provence
Lavandula Silver Anouk * Silver Anouk Spanish Lavender
Lavandula stoechas Javelin Forte White * Javelin Forte White Spanish Lavender
Leonotis menthifolia * Dwarf Lion's Tail
Leucanthemum superbum * Shasta Daisy
Liatris
Limonium minutum * Dwarf Statice
Limonium perezii * Statice, Sea Lavender
Linaria vulgaris * Butter and Eggs, Yellow Toadflax
Lobelia cardinalis * Cardinal Flower
Lobelia laxiflora * Mexican Lobelia
Lonicera involucrata * Twinberry
Lonicera japonica * Japanese Honeysuckle
Lonicera japonica purpurea * Purple Leaf Japanese Honeysuckle
Lonicera subspicata denudata * Chaparral Honeysuckle
Lupinus albifrons * Silver Bush Lupine
Lupinus arizonicus * Arizona Lupine
Lupinus bicolor * Miniature Lupine
Lupinus chamissonis * Dune Bush Lupine
Lupinus microcarpus densiflorus * Chick Lupine
Lupinus stiversii * Harlequin Lupine
Lupinus succulentus * Succulent Lupine, Arroyo Lupine
Lupinus truncatus * Collared Annual Lupine
Lychnis coronaria * Rose Campion
Lyonothamnus floribundus * Catalina Ironwood
Magnolia Alexandrina * Alexandrina Magnolia
Magnolia Brozzonii * Saucer Magnolia
Magnolia Butterflies * Butterflies Magnolia
Magnolia Galaxy * Galaxy Magnolia
Magnolia liliiflora nigra * Lily Magnolia
Magnolia soulangiana * Tulip Magnolia
Magnolia stellata * Star Magnolia
Magnolia stellata Pink * Pink Star Magnolia
Melea azedarach * Chinaberry Tree, Bead Tree, Cape Lilac, Persian Lilac
Miscanthus Cosmopolitan * Eulalea Grass
Miscanthus Gold Bar * Gold Bar Maiden Grass
Miscanthus variegatus * Silver Grass
Miscanthus zebrinus * Zebra Grass
Monarda didyma * Bee Balm
Muhlenbergia dubia * Pine Muhly Grass
Myrica californica * Pacific Wax Myrtle
Narcissus Jenny * Jenny Daffodil
Narcissus King Alfred * Trumpet Daffodil
Narcissus Paperwhite * Paperwhite Narcissus
Nassella pulchra * Purple Needle Grass
Nassella speciosa * Desert Needle Grass
Nassella tenuissima * Mexican Feather Grass, Texas Needle Grass
Nepeta faassenii * Faassen's Catmint
Nigella damascena * Love in a Mist
Ochna serrulata * Mickey Mouse Plant
Oenothera elata hookeri * Hooker's Evening Primrose
Oenothera fremontii Shimmer * Shimmer Sundrops, Fremont Evening Primrose
Oenothera missoriensis * Missouri Evening Primrose, Ozark Sundrop
Oenothera speciosa * Mexican Evening Primrose
Origanum dictamnus * Crete Dittany
Origanum Hopley's Purple * Hopley's Purple Oregano
Origanum kaliteri * Greek Mountain Oregano, Kaliteri Oregano
Origanum Kent Beauty * Kent Beauty Oregano
Osteospermum Blue Eyed Beauty * Blue Eyed Beauty African Daisy
Osteospermum fruticosum * African Daisy
Osteospermum Spider White * Spider White African Daisy
Oxalis oregana * Redwood Sorrel
Oxalis triangularis * Purple Shamrock
Paeonea californica * California Peony
Panicum virgatum Heavy Metal * Heavy Metal Switch Grass
Papaver somniferum * Opium Poppy
Pelargonium cordifolium * Heartleaf Geranium
Pelargonium fragrans * Nutmeg Geranium
Pelargonium graveolens * Rose Geranium
Pelargonium ionidiflorum * Celery Scented Geranium
Pelargonium quercifolium * Oakleaf Geranium
Pelargonium sidoides * Silverleaf Geranium
Pelargonium sidoides glorianaPink Silverleaf Geranium
Pelargonium tomentosum * Peppermint Scented Geranium
Pennisetum Cherry Splarkler * Cherry Sparkler Fountain Grass
Pennisetum Fireworks * Fireworks Fountain Grass
Pennisetum setaceum rubrum * Red Fountain Grass
Penstemon Apple Blossom * Apple Blossom Beardtongue
Penstemon Burgundy Brew * Burgundy Brew Beardtongue
Penstemon centranthifolius * Scarlet Bugler
Penstemon cobaea * Prarie Beardtongue, Foxglove Penstemon
Penstemon eatonii * Firecracker Penstemon
Penstemon Evelyn * Evelyn Beardtongue
Penstemon Firebird * Firebird Beardtongue
Penstemon grinnellii * Grinnell's Penstemon
Penstemon heterophyllus * Foothill Penstemon
Penstemon Hidcote Pink * Hidcote Pink Beardtongue
Penstemon Holly's White * Holly's White Beardtongue
Penstemon Husker's Red * Husker's Red Beardtongue
Penstemon Margarita BOP * Foothill Penstemon, Mountain Penstemon
Penstemon Midnight * Midnight Beardtongue
Penstemon palmeri * Palmer's Penstemon
Penstemon parryi * Desert Penstemon
Penstemon Raven * Raven Beardtongue
Penstemon Red Rocks * Red Rocks Beardtongue
Penstemon spectabilis * Showy Penstemon
Penstemon triflorus * Heller's Penstemon
Persicaria microcephala Red Dragon * Knotweed, Fleece Flower
Perovskia atriplicifolia * Russian Sage
Phlomis fruticosa * Jerusalem Sage
Phlomis lanata * Woolly Jerusalem Sage
Phlomis purpurea * Purple Jerusalem Sage
Phlox subulata * Moss Pink
Physotegia virginiana * Obedient Plant
Pickeringia montana * Chaparral Pea
Pinus coulteri * Big Cone Pine, Coulter Pine
Pinus monophylla * Pinyon Pine
Platanus racemosa * Sycamore
Platycodon grandiflorus * Balloon Flower
Plumbago auriculata * Cape Plumbago
Polystichum munitum * Western Sword Fern
Prunella laciniata * Cutleaf Self Heal
Prunella vulgaris * Common Self Heal
Prunella vulgaris lanceolata * Lance Self Heal
Pteridium aquilinum * Bracken Fern
Pyrus caleryana * Bradford Pear
Pyrus kawakamii * Evergreen Flowering Pear
Quercus agrifolia * Coast Live Oak
Quercus berberidifolia * Scrub Oak
Quercus douglasii * Blue Oak
Quercus durata * Leather Oak
Quercus garryana * Oregon Oak
Quercus john-tuckeri * Tucker's Oak
Quercus kelloggii * Maple Leaf Oak
Quercus lobata * Valley Oak
Quercus muehlenbergii * Chinkapin Oak
Ranunculus repens pleniflorus * Double Creeping Buttercup
Ratibida columnifera * Mexican Hat
Rhamnus californica Eve Case * Coffee Berry
Rhamnus crocea * Red Berry
Rhodiola rosea * Rose Root Stonecrop
Romneya coulteri * Matilija Poppy
Rosa banksiae alba plena * White Lady Banks Rose
Rosa bankseia lutea * Yellow Lady Banks Rose
Rosmarinus officinalis prostratus * Trailing Rosemary
Rubus ursinus * California Blackberry, Pacific Blackberry
Rudbeckia Tiger Eye * Black Eyed Susan, Gloriosa Daisy
Ruta graveolens * Rue
Salvia adenophora * Oaxaca Red Sage
Salvia africana-lutea * Golden Sage
Salvia Allen Chickering * Allen Chickering Sage
Salvia apiana * White Sage
Salvia argentea * Silver Sage
Salvia Argentine Skys * Anise Scented Sage
Salvia blepharophylla * Eyelash Leaved Sage
Salvia brandegeei * Brandegee's Sage
Salvia buchananii * Buchanan's Fuchsia Sage
Salvia cacaliaefolia, Salvia cacaliifolia * Ivy Leaf Sage, Blue Vine Sage, Guatamalan Blue Vine Sage
Salvia canariensis * Canary Island Sage
Salvia candelabrum * Candelabra Sage
Salvia carduacea * Thistle Sage
Salvia Celestial Blue * Celestial Blue Sage
Salvia chamaedryoides * Germander Sage
Salvia chamaedryoides Marine Blue * Marine Blue Germander Sage
Salvia chiapensis * Chiapas Sage
Salvia chionopeplica * Baja Sage
Salvia clevelandii * Cleveland Sage
Salvia coahuilensis * Coahuila Sage
Salvia coccinea Lady in Red * Texas Sage, Scarlet Sage
Salvia columbariae * Chia
Salvia confertiflora * Red Velvet Sage
Salvia Costa Rica Blue * Anise Scented Sage
Salvia Dancing Dolls * Dancing Dolls Sage
Salvia darcyi * Fiery Sage
Salvia Desperado * Desperado Sage
Salvia discolor * Andean Silver Leaf Sage
Salvia dorisiana * Fruit Scented Sage
Salvia dorii dorii * Purple Desert Sage
Salvia elegans * Pineapple Sage
Salvia farinacea Victoria * Mealy Sage
Salvia flocculosa Ecuador * Ecuador Sage
Salvia gesneriifolia * Mexican Scarlet Sage
Salvia greggii alba * White Texas Sage
Salvia greggii Annie * Annie Texas Sage
Salvia greggii Desert Blaze * Variegated Autumn Sage
Salvia greggii Furman's Red * Furman's Red Autumn Sage
Salvia greggii Golden Girl * Golden Girl Autumn Sage
Salvia greggii Heatwave Glimmer * Heatwave Glimmer Autumn Sage
Salvia greggii La Playa Rosa * Beach Pink Autumn Sage
Salvia Indigo Spires * Indigo Spires Sage
Salvia involucrata * Tarantula Sage
Salvia iodantha * Mexican Fuchsia Sage
Salvia karwinskii * Karwinski's Sage
Salvia lanceolata * Rocky Mountain Sage, Rusty Sage
Salvia lemmonii * Lemmon's Sage
Salvia leucantha * Mexican Sage
Salvia leucantha Danielle's Dream * Danielle's Dream Mexican Sage
Salvia leucantha Midnight * Midnight Mexican Sage
Salvia leucantha Santa Barbara * Santa Barbara Mexican Sage
Salvia leucantha White Mischief * White Mischief Mexican Sage
Salvia leucophylla Amethyst Bluff * Amethyst Bluff Purple Sage
Salvia leucophylla Bee's Bliss * Bee's Bliss Sage
Salvia leucophylla Point Sal Spreader * Purple Sage
Salvia lyrata * Meadow Sage, Cancer Weed
Salvia madrensis * Forsythia Sage
Salvia maraschino * Maraschino Mexican Sage
Salvia melissodora * Grape Scented Sage
Salvia mellifera * Black Sage
Salvia mellifera Green Carpet * Green Carpet Creeping Sage
Salvia mellifera Skylark * Skylark Black Sage
Salvia mellifera Tera Seca * Tera Seca Black Sage
Salvia mexicana Limelight * Limelight Mexican Sage
Salvia microphylla * Little Leaf Sage
Salvia microphylla Berzerkeley * Berzerkeley Little Leaf Sage
Salvia microphylla Dark Dancer * Dark Dancer Little Leaf Sage
Salvia microphylla Hotlips * Hotlips Little Leaf Sage
Salvia meulleri * Royal Purple Autumn Sage
Salvia muirii
Salvia munzii * San Diego Sage, Munz's Sage
Salvia munzii Emerald Cascade * San Miguel Mountain Sage, Munz's Sage
Salvia Mystic Spires * Dwarf Indigo Spires Sage
Salvia nemerosa plumosa * Woodland Sage
Salvia officinalis Tricolor * Tricolored Culinary Sage
Salvia patens * Gentian Sage
Salvia Pozo Blue * Grey Musk Sage
Salvia Purple Majesty * Anise Scented Sage
Salvia regla * Mountain Sage
Salvia ripari * Creeping Sage
Salvia sagittata * Arrow Leaf Sage
Salvia San Takao * Pale Pink Autumn Sage
Salvia Sierra del San Antonio * Sierra del San Antonio Autumn Sage
Salvia semiatrata * Pine Mountain Sage
Salvia sinaloensis * Sapphire Sage
Salvia sonomensis Dara's Choice * Dara's Choice Creeping Sage
Salvia sonomensis Green Carpet * Green Carpet Creeping Sage
Salvia sonomensis Mrs Beard * Mrs Beard Creeping Sage
Salvia spathacea * Hummingbird Sage
Salvia spectabilis
Salvia superba Snow White
Salvia sylvestris May Night * May Night Sage, Woodland Sage
Salvia uliginosa * Blue Spike Sage
Salvia urica * Blue Bush Sage
Salvia verticillata * Lilac Sage, Whorled Clary Sage
Salvia wagneriana * Wagner's Sage
Salvia Waverly * Waverly Sage
Salvia Winnifred Gilman * Blue Sage
Sambucus mexicana * Mexican Elderberry
Santolina chamaecyparissus * Lavender Cotton
Santolina Lemon Queen * Naples Lavender Cotton, Lemon Queen Santolina
Santolina virens * Green Lavender Cotton, Green santolina
Satureja
Saponaria lempergii Max Frei * Max Frei Soapwort
Scilla peruviana * Peruvian Lily
Scutellaria resinosa Smoky Hills * Prarie Skullcap
Sedum adolphii Firestorm * Golden Sedum, Adolph's Sedum
Sedum dasyphyllum * Corsican Stonecrop
Sedum morganianum Burrito * Burrito Burro's Tail
Sedum rosea * Rose Root Stonecrop
Sedum spathulifolium Cape Blanco * Cape Blanco Stonecrop
Sedum spurium Tricolor * Variegated Stonecrop, Two Row Stonecrop
Senecio radicans * Fish Hook Senecio, Necklace Plant, String of Bananas
Sidalcea malviflora * Checker
Spiraea cantoniensis * Bridal Wreath Spireae, Reeves Spiraea
Symphyotrichum chilense * Pacific Aster
Stachys albens * White Hedge Nettle
Stachys albotomentosa Hidalgo * Stachys Hidalgo, Seven up Plant
Stachys byzantina Silver Carpet * Lambs Ears, Silver Carpet Stachys
Stachys chrysantha * Yellow Stachys
Stipa pulchra * Purple Needle Grass
Stipa speciosa * Mexican Feather Grass
Stipa tenuissima * Desert Needle Grass
Syringia California Rose * California Rose Lilac
Syringia Excel * Excel Lilac
Tagetes lemmonii * Bush Marigold
Tagetes lucida * Mexican Tarragon
Thymus
Trichostema lanceolatum * Vinegar Weed
Tricyrtus hirta * Toad Lily
Umbellularia californica * California Bay
Verbascum chaixii album * Nettle Leaved Mullein
Verbascum Southern Charm * Mullein
Verbena bonariensis * Purpletop Vervain
Verbena Lilacina de la Mina * Cedros Island Verbena
Verbena lilacina Paseo Rancho * Pink Cedros Island Verbena
Verbena rigida * Sandpaper Verbena
Veronica Georgia Blue * Speedwell
Viburnum macrocephalum * Chinese Snowball Viburnum
Viburnum tinus compactum * Arrowwood
Vitex agnus-castus * Chaste Tree
Vitex rotundifolia * Beach Vitex, Round Leaf Vitex
Vitex trifolia purpurea * Arabian Lilac
Weigelia
Wisteria sinensis alba * White Chinese Wisteria
Wisteria sinensis * Blue Chinese Wisteria
Yucca brevifolia * Joshua Tree
Yucca rostrata Blue Velvet * Big Bend Yucca, Beaked Yucca
Yucca whipplei * Our Lord's Candle
Zantedeschia aethiopica * Calla Lily