Dry Shade Garden - Planting Under Oaks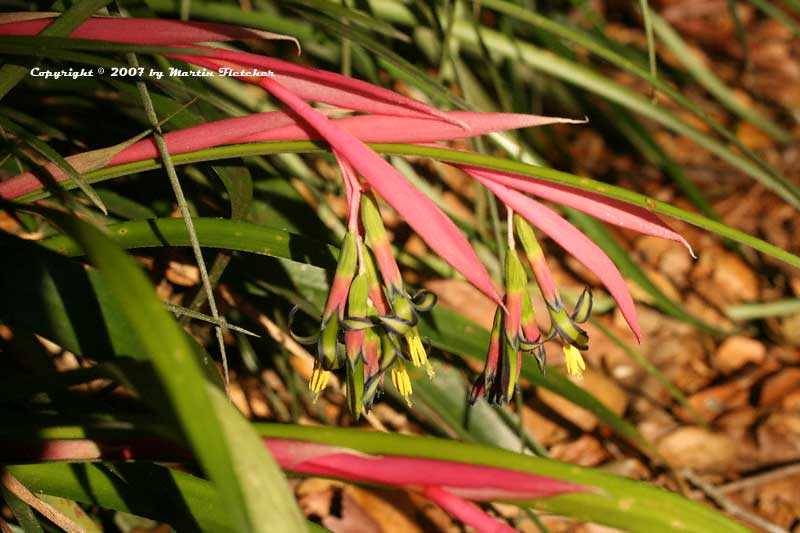 Oaks in our landscapes require a dry environment under them. Finding drought tolerant shade plants that will thrive can be difficult. Many of the plants that are found in garden centers shade sections lust for water. Appropriate planting under oak trees is critical if we are to maintain our natural oak forest.
Increasingly water agencies are restricting the use of water or are raising the cost dramatically. And community planners are requiring ecologically sensitive plant lists for site plans for construction projects. For the sake of the wallet as well as maintaining the continuity of the plants in the landscape there is a lot of motivation for using drought tolerant plants under your oaks.
This dry shade garden list includes both natives and introduced landscape plants that will thrive on the conditions that are ideal for planting under our native Coast Live Oaks, Quercus agrifolia. The coolest and most comfortable part of the garden during the heat of the day is under the trees. It is only natural to want to make this area attractive. These areas are often planted with lawns, azaleas, fuchsias and many other water loving plants. In the long run this is no good for the oak trees. The oaks may not show stress immediately but over 10-20 years it can spell disaster. In the interim the oaks keep looking worse and worse. And the risk of the tree falling on people increases dramatically.
The extra irrigation coupled with the fertilizing in the area of the trees with concentrated ammonia based fertilizers destroys the native soil fungi. This creates conditions ideal for the oak root fungus to get a foothold. The bad fungi don't attach to good fungi like they do to naked roots.
While oak trees can grow in wet conditions (I have seen old trees growing in creek bottoms with water running over the roots all year) they can not tolerate a change of diet without a rapid decline or death.
The problem zone extends to the drip line of the tree and somewhat beyond. This means the entire area shaded by the tree and probably half again that radius of the tree has roots from that tree. Any change of grade or increase in the irrigation within this zone compromises the trees.
Drought Tolerant Shade Plants List
Common Names First * Plants by their Latin Names
Adolph's Sedum * Sedum adolphii Firestorm
African Iris * Dietes bicolor
Airplane Plant * Crassula falcata
Andean Silver Leaf Sage * Salvia discolor
Apostle Plant * Neomarica caerulea
Arrowwood * Viburnum tinus compactum
Ascot Rainbow Spurge * Euphorbia Ascot Rainbow
Australian Fuchsia Dusky Bells * Correa Dusky Bells
Australian Fuchsia Ivory Bells * Correa Ivory Bells
Aztec Lily * Sprekelia formosissima
Baby Sun Rose * Aptenia Red Apple
Bedstraw * Galium aparine
Berkeley Sedge * Carex tumulicola
Berzerkeley Sage * Salvia microphylla Berzerkeley
Betty Marshall Trumpet Tree * Brugmansia Betty Marshall
Black Calla Lily * Arum palaestinum
Black Eyed Cuphea * Cuphea cyanea
Black Mondo Grass * Ophiopogon planiscapus nigrescens
Bleeding Heart Vine * Clerodendrum thomsoniae
Blood Lily * Scadoxus membranaceus
Blue Angel's Trumpet * Iochroma grandiflora
Blue Bush Sage * Salvia urica
Blue Butterfly * Clerodendrum ugandense
Blue Cycad * Encephelartos horridus
Blue Eyed Grass * Sisyrynchium bellum
Blue Flame Agave * Agave Blue Flame
Blue Tears Sedum * Sedum dasphylum
Bluebell Creeper * Sollya heterophylla
Bluff Lettuce * Dudleya farinosa
Blush Fringe Flower * Loropetalum chinense Blush
Boxelder * Acer negundo californicum
Bressingham Ruby Bergenia * Berginia Bressingham Ruby
Bridal Wreath Spiraea * Spiraea cantoniensis
Bridget Bloom Foam Flower * Heucherella Bridget Bloom
Buchanan's Sage * Salvia buchananii
Burgundy Fringe Flower * Loropetalum chinense Burgundy
Burrito Burro's Tails * Sedum morganianaum Burrito
Bush Penstemon * Keckiella cordifolia
Bush Violet * Barleria obtusa
Butterfly Amaryllus * Hippeastrum papilio
Butterfly Iris * Iris japonica, Iris Nada
Butterfly Vine * Mascagnia macroptera
California Ash * Fraxinus dipetala
California Bay * Umbellularia californica
California Black Oak * Quercus kelloggii
California Box Elder * Acer negundo californicum
California Buttercup * Ranunculus californicus
California Fescue * Festuca californica
California fuchsia * Zauschneria californica, Epilobium canum
California Hoptree * Ptelea crenulata
California Maidenhair Fern * Adiantum jordanii
California Peony * Paeonia californica
California Rose Lilac * Syringia California Rose
California Wild Grape * Vitis californica
California Wild Rose * Rosa californica
Calla Lily * Zantedeschia aethiopica
Camas * Camassia quamash
Cameron's Ruwari Aloe * Aloe cameronii
Campfire Crassula * Crassula capitella Campfire
Candleholder Dudleya * Dudleya candelabrum
Candleholder Live Forever * Dudleya candelabrum
Canyon Duet Coral Bells * Heuchera Canyon Duet
Canyon Prince Wild Rye * Leymus condensatus Canyon Prince
Canyon Sunflower * Venegasia carpesioides
Cape Fuchsia * Phygelius capensis
Cape Tulip * Homeria collina
Cardinal Catchfly * Silene laciniata
Carolina Jessamine * Gelsemium sempervirens
Carrion Plant * Stapelia grandiflora
Cashmere Bouquet * Clerodendrum philippinum
Catalina Cherry * Prunus ilicifolia lyonii
Cat's Claw Vine * Macfadyena unguis-cati
Cedros Island Verbena * Verbena lilacina De La Mina
Celery Scented Geranium * Pelargonium ionidiflorum
Chapparal Clematis * Clematis lasiantha
Chaparral Currant * Ribes malvaceum
Chapparal Honeysuckle * Lonicera subspicata denudata
Charles Grimaldi Angel's Trumpet Tree * Brugmansia Charles Grimaldi
Cherry Sparkler Fountain Grass * Pennisetum Cherry Sparkler
Chinese Chain Fern * Woodwardia unigemmata
Chinese Plumbago * Ceratostigma wilmottianum
Cigar Plant * Cuphea ignea
Cliff Lettuce * Dudleya farinosa
Coast Live Oak * Quercus agrifolia
Coast Silk Tassel * Garrya elliptica James Roof
Cobwebby Spiderwort * Tradescantia sillmontana
Coffee Fern * Pellaea andromedifolia
Coffee Berry * Rhamnus californica Eve Case
Corsican Stonecrop * Sedum dasyphyllum
Creek Clematis * Clematis ligusticifolia
Crevice Alum Root * Heuchera micrantha diversifolia
Cross Vine * Bignonia capreolata Tangerine Beauty
Crown of Thorns * Euphorbia milii
Danville Manzanita * Arctostaphylos edmundsii Danville
Dark Dancer Sage * Salvia microphylla Dark Dancer
Desert Mint * Monardella odoratissima
Douglas Iris Hybrids * Pacific Coast Hybrid Iris
Dragon Arum * Dracunculus vulgaris
Dragon Lily * Dracunculus vulgaris
Drege Spur Flower * Plectranthus ciliatus Drege
Durban Canna Lily * Canna Durban
Dwarf Lion's Tail * Leonotis menthifolia
Dwarf Mondo Grass * Ophiopogon japonicus nana
Dwarf New Zealand Flax * Phormium Jack Spratt
Dwarf Plumbago * Ceratostigma plumbaginoides
Dwarf Shrimp Plant * Justicia Jambalaya
Dwarf Statice * Limonium minutum
Elegant Clarkia * Clarkia unguiculata
Evergold Sedge * Carex oshimensis Evergold
Evergreen Mock Orange * Philadelphus mexicanus plena
Fairy Lantern * Calochortus albus
False Freesia * Anomatheca laxa, Lapierousia laxa, Freesia laxa
Fern Leaf Lavender * Lavandula multifida
Fiesta Flower * Pholistoma auritum
Fire Star Orchid * Epidendrum radicans
Firebush * Hamelia patens
Firecracker Plant * Cuphea ignea
Firecracker Plant * Russellia equisetiformis
Firecracker Flower * Justicia rizzinii
Firefly Coral Bells * Heuchera Firefly
Firespike * Odontonema strictum, Justicia coccinea
Firewheel Tree * Stenocarpus sinuatus
Fireworks Fountain Grass * Pennisetum Fireworks
Fish Hook Senecio * Senecio radicans
Five Spot * Nemophila maculata
Flax Lily * Dianella tasmanica
Flower Dust Plant * Kalanchoe pumila
Flowering Inch Plant * Tradescantia bossfeldiana
Flowering Grass * Anomatheca laxa, Lapierousia laxa, Freesia laxa
Foothill Shooting Star * Dodecatheon hendersonii
Forest Lily * Velthemia bracteata
Fortnight Lily * Dietes grandiflora
Four O'Clock * Mirabilis jalapa
Fragrant Pitcher Sage * Lepichinia fragrans El Tigre
Friendship Plant * Billbergia nutans
Fringe Flower * Loropetalum chinense
Fruit Salad Shrimp Plant * Justicia Fruit Salad
Fruit Scented Sage * Salvia dorisiana
Fuchsia Flowered Currant * Ribes speciosum
Ghost Plant * Graptopetalum paraguayense
Giant Bird of Paradise * Strelitzia nicolai
Giant Chain Fern * Woodwardia fimbriata
Glossy Abelia * Abelia grandiflora
Gold Angel's Trumpet Tree * Brugmansia Charles Grimaldi
Gold Backed Fern * Pentagramma triangularis
Golden Currant * Ribes aureum
Golden Sedum * Sedum adolphii Firestorm
Goldenstar * Bloomeria crocea
Goldfish Plant * Nemathanthus wettsteinii
Gollum Jade * Crassula ovata Gollum
Gray Honeybush * Melaleuca incana
Grevillea paniculata * Spider Flower
Greyleaf Skullcap * Scutellaria siphocampyloides
Ground Morning Glory * Convolvulus sabatius
Ground Rooting Epidendrum * Epidendrum radicans
Hartweg's Iris * Iris hartwegii
Heart Leaf Flame Pea * Chorizema cordatum
Heartleaf Geranium * Pelargonium cordifolium
Heartleaf Penstemon * Keckiella cordifolia
Heart Leafed Penstemon * Keckiella cordifolia
Hens and Chicks * Echeveria secunda
Hidalgo Stachys * Stachys albotomentosa Hidalgo
Holly Leaf Cherry * Prunus ilicifolia
Honey Bush * Melianthus major
Howard McMinn Manzanita * Arctostaphylos Howard McMinn
Hummingbird Bush * Justicia suberecta, Dicliptera suberecta
Hummingbird Sage * Salvia spathacea
Inch Plant * Tradescantia bossfeldiana
Indian Pink * Silene laciniata
Indigo Spires Sage * Salvia Indigo Spires
Island Alum Root * Heuchera maxima
Island Mallow * Lavatera purisima
Island Monkeyflower * Mimulus flemingii
Island Pitcher Sage * Lepichinia fragrans El Tigre
Island Snapdragon * Galvezia speciosa Firecracker
Jagged Lavender * Lavandula pinnata buchii
Jambalaya Shrimp Plant * Justicia Jambalaya
Japanese Anemone Alice * Semidouble Pink Japanese Anemone
Japanese Anemone Honorine Jobert * Single White Japanese Anemone
Japanese Anemone September Charm * Single Pink Japanese Anemone
Japanese Anemone Whirlwind * Double White Japanese Anemone
Japanese Holly Fern * Cyrtomium falcatum
Japanese Sedge * Carex oshimensis Evergold
Jerusalem Sage * Phlomis fruticosa
Joyce Coulter California Lilac * Ceanothus Joyce Coulter
Jupiter's Beard * Centranthus ruber
Kaffir Lily * Clivia miniata
Kaleidoscope Abelia * Abelia Kaleidoscope
Kassandra Coral Bells * Heuchera Kassandra
Kiwi Aeonium * Aeonium Kiwi
Lace Hydrangea * Hydrange serrata
Lambs Ears * Stachys byzantina Silver Carpet
Lance Leaf Live Forever * Dudleya lanceolata
Lantana Luscious Citrus Blend
Large Firecracker Plant * Cuphea David Verity
Leadwort * Ceratostigma plumbaginoides
Lemonade Berry * Rhus integrifolia
Lemmon's Sage * Salvia lemmonii
Licorice Plant * Helichrysum petiolare
Limelight Licorice Plant * Helichrysum Limelight
Limelight Sage * Salvia mexicana Limelight
Lion's Tail * Leonotus leonurus
Little Sur Manzanita * Arctostaphylos edmundsii Little Sur
Lobster Flower * Plectranthus neochilus
Lolly Bush * Clerodendrum floribundum
Louisiana Hybrid Iris Black Gamecock * Iris Black Gamecock
Madagascar Jasmine * Stephanotis floribunda
Madiera Geranium * Geranium maderense
Manzanita Howard McMinn * Arctostaphylos Howard McMinn
Maple Leaf Oak * Quercus kelloggii
Marble Queen Mirror Plant * Coprosma Marble Queen
Marvel of Peru * Mirabilis jalapa
Mat Rush * Lomandra longifolia
Mauve Clusters Fairy Fan Flower * Scaevola Mauve Clusters
Matilija Poppy * Romneya coulteri
Mexican Oregano * Poliomintha longiflora
Mexican Petunia * Ruellia brittoniana
Mexican Pitcher Sage * Lepechinia hastata
Mexican Sage * Salvia mexicana Limelight
Mona Lavender Spur Flower * Plectranthus Mona Lavender
Monkeyflower Georgie Red * Mimulus Georgie Red
Monkeyflower Jack * Mimulus Jack
Monkeyflower Midnight * Mimulus Midnight
Monkeyflower Ruby Silver * Mimulus Ruby Silver
Moonchimes Abutalon * Abutalon Moonchimes
Moonraker Cape Fuchsia * Phygelius Moonraker
Moonstones Succulent * Pachyphytum oviferum
Mosquito Bills * Dodecatheon hendersonii
Mountain Hydrangea * Hydrangea serrata
Mountain Mint * Monardella odoratissima
Mugwort * Artemisia douglasiana
Mugwort * Artemisia vulgaris
Mullein * Verbascum Southern Charm
Mustang Mint * Monardella lanceolata
Natal Bottlebrush * Greyia Sutherlandii
Nevin's Barberry * Berberis nevinii, Mahonia nevinii
Necklace Plant * Senecio radicans
Night Blooming Jasmine * Cestrum nocturnum
Night Lights Lemon Firecracker Plant * Russellia Night Lights Lemon
Noel's Grevillea * Grevillea noellii
Oak Leaf Hydrangea * Hydrangea quercifolia
Oak Leaf Hydrangea Alison * Hydrangea quercifolia Alison
Oak Leaf Hydrangea Sikes Dwarf * Hydrangea quercifolia Sikes Dwarf
Oakleaf Geranium * Pelargonium quercifolium
Oaxaca Red Sage * Salvia adenophora
Orange Bells * Tecoma smithii
Orange Ice Plant * Lampranthus aureus Orange Form
Orange Jessamine * Cestrum aurantiacum
Orange Justicia * Justicia leonardii
Ortega Beauty Chaparral Currant * Ribes malvaceum Ortega Beauty
Pacific Coast Hybrid Iris Dorothea's Ruby * Iris Dorothea's Ruby
Pacific Wax Myrtle * Myrica californica
Padre's Shooting Star * Dodecatheon clevelandii
Palace Purple Coral Bells * Heuchera Palace Purple
Palestine Lily * Arum palaestinum
Palmer's Penstemon * Penstemon palmeri
Panda Plant * Kalanchoe tomentosa
Peach Sage * Salvia dorisiana
Pearl Bluebush * Maireana sedifolia
Peppermint Scented Geranium * Pelargonium tomentosum
Perennial Bachelor's Button * Centarurea montana
Peruvian Lily * Scilla peruviana
Pewter Bush * Strobilanthes gossypina
Pink Buckwheat * Eriogonum grande rubescens
Pink Cedros Island Verbena * Verbena lilacina Paseo Rancho
Pink Dusty Miller * Centaurea gymnocarpa
Pink Powderpuff Bush * Calliandra haematocephala
Pink Sensation Cape Fuchsia * Phygelius Pink Sensation
Pink Stripe Flax * Phormium Pink Stripe
Pipestems * Clematis lasiantha
Pride of Madiera * Echium candicans
Pitcher Sage * Lepechinia hastata
Purple Shamrock * Oxalis triangularis
Purple Wandering Jew * Tradescantia pallida Purple Heart
Purple Wings * Dalechampia dioscoreifolia
Pussy Ears * Kalanchoe tomentosa
Queen Emma's Purple Crinum * Crinum procerum splendens
Queen's Tears * Billbergia nutans
Rainbow Orchid * Epidendrum radicans
Rainbow Surprise Mirror Plant * Coprosma Rainbow Surprise
Red Beauty Holly * Ilex Red Beauty
Red Berry * Rhamnus crocea
Red Buckwheat * Eriogonum grande rubescens
Red Bush Monkeyflower * Mimulus puniceus
Red Cestrum * Cestrum newellii
Red Fountain Grass * Pennisetum setaceum rubrum
Red Pencil Tree * Euphorbia tirucalli Sticks on Fire
Red Valerian * Centranthus ruber
Red Velvet Sage * Salvia confertiflora
Red White Amaryllus * Hippeastrum Red White
Red Japanese Barberry * Berberis thunbergii atropurpurea
Reed Stem Epidendrum * Epidendrum radicans
Reeves Spiraea * Spiraea cantoniensis
Renard's Geranium * Geranium renardii
Rocky Point Blue Eyed Grass * Sisyrinchium bellum Rocky Point
Rose Glorybower * Clerodendrum bungei
Round Leaf Tea Tree * Leptospermum rotundifolium
Royal Grevillea * Grevillea victoriae
Roy's Red Mirror Plant * Coprosma Roy's Red
Running Postman Vine * Kennedia prostrata
Sago Palm * Cycas revoluta
Sandpaper Verbena * Verbena rigida
Santa Ana Cardinal Coral Bells * Heuchera Santa Ana Cardinal
Sea Lavender * Limonium perezii
Sea Lettuce * Dudleya caespitosa
Seaside Daisy Bountiful * Erigeron glaucus Bountiful
Seaside Daisy Sea Breeze * Erigeron glaucus Sea Breeze
Seaside Daisy Wayne Roderick * Erigeron glaucus Wayne Roderick
Seven-up Plant * Stachys albotomentosa Hidalgo
Shell Pink Dead Nettle * Lamium Shell Pink
Short Leaved Aloe * Aloe brevifolia
Sierra Iris * Iris hartwegii
Sikes Dwarf Hydrangea * Hydrangea quercifolia Sikes Dwarf
Silver Dragon Lily Turf * Lirope Silver Dragon
Silver Spear * Astelia chathamica
Silver Spur Flower * Plectranthus argentatus
Sky Flower * Duranta erecta
Spice Bush * Calycanthus occidentalis
Spotted Dead Nettle * Lamium Shell Pink
Spring Star Flower * Ipheon uniflorum
Springtime Indian Hawthorn * Raphiolepsis Springtime
Starfish Flower * Stapelia grandiflora
Statice * Limonium perezii
Sticky Cinquefoil * Potentilla glandulosa, Drymocallis glandulosa
Sticky Monkeyflower * Mimulus aurantiacus, Diplicus aurantiacus
Stink Lily * Dracunculus vulgaris
String of Bananas * Senecio radicans
Sugar Bush * Rhus ovata
Summer Snapdragon * Angelonia angustifolia
Sunrise Cabbage Palm * Cordyline Sunrise
Sweet Garlic * Tulbaghia fragrans
Sweet Pea Shrub * Polygala dalmaisiana
Sycamore * Platanus racemosa
Tas Red Flax Lily * Dianella Tas Red
Tea of Heaven * Hydrangea serrata
Tiger Grass * Thysanolaena maxima
Toad Lily * Tricyrtis hirta
Tower of Jewels * Echium wildpretii
Toyon * Heteromoles arbutifolia
Tree Mallow * Lavatera assurgentiflora
Tropical Hydrangea * Dombeya wallachii
Trumpet Creeper * Campsis radicans
Turk's Cap * Malvaviscus arboreus
Two Row Stonecrop * Sedum spurium Tricolor
Variegated Japanese Sedge * Carex oshimensis Evergold
Variegated Myrtle * Myrtus communis variegata
Variegated Shell Ginger * Alpinia zerumbet variegata
Variegated Stonecrop * Sedum spurium Tricolor
Velvet Elephant Ear * Kalanchoe beharensis
Violet Queen Hens and Chicks * Echeveria Violet Queen
Virgin's Bower Vine * Clematis ligusticifolia
Vine Hill Manzanita * Arctostaphylos Howard McMinn
Voodoo Lily * Dracunculus vulgaris
Walking Iris * Neomarica caerulea
Wax Vine * Hoya carnosa
Wendy Coral Bells * Heuchera Wendy
White Lights Seaside Daisy * Erigeron glaucus White Lights
Wild Freesia * Freesia alba
Wild Rye * Elymus condensatus
White Lion's Tail * Leonotis leonurus alba
White Powderpuff Bush * Calliandra haematocephala alba
White Society Garlic * Tulbaghia violacea Savannah Lightening
White Striped Flax Lily * Dianella tasmanica variegata
White Trumpet Tree * Brugmansia Betty Marshall
White Trumpet Tree * Brugmansia candida
Windflower Alice * Semidouble Pink Japanese Anemone
Windflower Honorine Jobert * Single White Japanese Anemone
Windflower September Charm * Single Pink Japanese Anemone
Windflower Whirlwind * Double White Japanese Anemone
Winter Blooming Bergenia * Bergenia crassifolia
Witch Hazel * Loropetalum chinense
Witch Hazel Blush * Loropetalum chinense Blush
Witch Hazel Burgundy * Loropetalum chinense Burgundy
Wood Spurge * Euphorbia amygdaloides robbiae
Woodland Clarkia * Clarkia unguiculata
Woodland Sage * Salvia nemerosa
Woolly Butterfly Bush * Buddleia marrubifolia
Yankee Point California Lilac * Ceanothus Yankee Point
Yellow Abutalon * Abutalon Moonchimes
Yellow Cape Fuchsia * Phygelius Moonraker
Yellow Firecracker Plant * Russellia Night Lights Lemon
Yellow Wild Iris * Dietes bicolor
Yesterday Today and Tomorrow * Brunfelsia uniflora
Drought Tolerant Shade Plants Latin Names
Abelia grandiflora * Glossy Abelia
Abelia Kaleidoscope * Kaleidoscope Abelia
Abutilon Moonchimes * Yellow Abutilon
Acer negundo californicum * California Box Elder, Boxelder
Adiantum jordanii * California Maidenhair Fern
Aeonium Kiwi * Kiwi Aeonium
Agave Blue Flame * Blue Flame Agave
Aloe brevifolia * Short Leaved Aloe
Aloe cameronii * Cameron's Ruwari Aloe, Red Aloe
Aloe sinkatana
Alpinia zerumbet variegata * Variegated Shell Ginger
Anemone Alice * Semidouble Pink Japanese Anemone
Anemone Honorine Jobert * Single White Japanese Anemone
Anemone September Charm * Single Pink Japanese Anemone
Anemone Whirlwind * Double White Japanese Anemone
Angelonia angustifolia * Summer Snapdragon
Anomatheca laxa * Flowering Grass, False Freesia
Arctostaphylos edmundsii Danville * Danville Manzanita
Arctostaphylos edmundsii Little Sur * Little Sur Manzanita
Arctostaphylos densiflora Howard McMinn * Vine Hill Manzanita, Howard McMinn Manzanita
Aptenia Red Apple * Baby Sun Rose
Artemisia douglasiana * Mugwort
Artemisia vulgaris * Mugwort
Astelia chathamica Silver Spear * Silver Spear
Barleria obtusa * Bush Violet
Berberis nevinii * Nevin's Barberry
Berberis thunbergii atropurpurea * Red Japanese Barberry
Bergenia Bressingham Ruby * Bressingham Ruby Bergenia
Bergenia crassifolia * Winter Blooming Bergenia
Bignonia capreolata Tangerine Beauty * Cross Vine
Billbergia nutans * Queen's Tears, Friendship Plant
Bloomeria crocea * Goldenstar
Brugmansia Betty Marshall * White Trumpet Tree, Betty Marshall Trumpet Tree
Brugmansia candida * White Trumpet Tree
Brugmansia Charles Grimaldi * Gold Angel's Trumpet Tree
Brunfelsia uniflora * Yesterday Today and Tomorrow
Buddleia marrubifolia * Woolly Butterfly Bush
Calliandra haematocephala * Pink Powderpuff Bush
Calliandra haematocephala alba * White Powderpuff Bush
Calochortus albus * Fairy Lantern
Calycanthus occidentalis * Spice Bush
Camassia quamash * Camas
Campsis radicans * Trumpet Creeper
Canna Durban * Durban Canna Lily
Carex oshimensis Evergold * Evergold Sedge, Variegated Japanese Sedge
Carex tumulicola * Berkeley Sedge
Ceanothus Joyce Coulter * Joyce Coulter California Lilac
Ceanothus Yankee Point * Yankee Point California Lilac
Centaurea gymnocarpa * Pink Dusty Miller
Centaurea montana * Perennial Bachelor's Button, Mountain Bluet
Centranthus ruber * Red Valerian, Jupiter's Beard
Ceratostigma plumbaginoides * Dwarf Plumbago, Leadwort
Ceratostigma wilmottianum * Chinese Plumbago
Cestrum aurantiacum * Orange Jessamine
Cestrum newellii * Red Cestrum
Cestrum nocturnum * Night Blooming Jasmine
Chorizema cordatum * Heart Leaf Flame Pea
Clarkia unguiculata * Woodland Clarkia, Elegant Clarkia
Clematis lasiantha * Chaparral Clematis, Pipestems
Clematis ligusticifolia * Creek Clematis, Virgin's Bower
Clerodendrum bungei * Rose Glorybower
Clerodendrum floribundum * Lolly Bush
Clerodendrum philipinum * Cashmere Bouquet
Clerodendrum thomsoniae * Bleeding Heart Vine
Clerodendrum ugandense * Blue Butterfly
Clivia miniata * Kaffir Lily
Convolvulus sabatius * Ground Morning Glory
Coprosma kirkii variegata * Dwarf Mirror Plant
Coprosma Marble Queen * Marble Queen Mirror Plant
Coprosma Rainbow Surprise * Rainbow Surprise Mirror Plant
Coprosma Roy's Red * Roys Red Mirror Plant
Cordyline Sunrise * Sunrise Cabbage Palm
Correa Dusky Bells * Dusky Bells Australian Fuchsia
Correa Ivory Bells * Ivory Bells Australian Fuchsia
Crassula falcata * Airplane Plant
Crassula ovata Gollum * Gollum Jade
Crinum procerum splendens * Queen Emma's Purple Crinum
Crocosmia Lucifer
Crocosmia Solfatare
Cuphea cyanea * Black Eyed Cuphea
Cuphea David Verity * Large Firecracker Plant
Cuphea ignea * Cigar Plant, Firecracker Plant
Cycas revoluta * Sago Palm
Cyrtomium falcatum * Japanese Holly Fern
Dalechampia dioscoreifolia * Purple Wings
Dianella Tas Red * Tas Red Flax Lily
Dianella tasmanica * Flax Lily
Dianella tasmanica variegata * White Striped Flax Lily
Dietes bicolor * Yellow Wild Iris, African Iris
Dietes grandiflora * Fortnight Lily
Dodecatheon clevelandii * Padre's Shooting Star
Dodecatheon hendersonii * Foothill Shooting Star, Mosquito Bills
Dracunculus vulgaris * Voodoo Lily, Dragon Arum, Dragon Lily, Stink Lily
Drymocallis glandulosa * Sticky Cinquefoil
Dudleya caespitosa * Sea Lettuce
Dudleya candelabrum * Candleholder Liveforever, Candleholder Dudleya
Dudleya farinosa * Bluff Lettuce, Cliff Lettuce
Dudleya lanceolata * Lance Leaf Liveforever
Duranta erecta * Sky Flower
Dyckia fosteriana
Echeveria secunda * Hens and Chicks
Echeveria Violet Queen * Violet Queen Hens and Chicks
Echium candicans * Pride of Madeira
Echium wildpretii * Tower of Jewels
Elymus condensatus Canyon Prince * Canyon Prince Giant Rye
Encephalartos horridus * Blue Cycad
Epidendrum radicans * Reed Stem Epidendrum, Ground Rooting Epidendrum, Fire Star Orchid, Rainbow Orchid
Erigeron glaucus Bountiful * Bountiful Seaside Daisy
Erigeron glaucus Sea Breeze * Pink Seaside Daisy, Sea Breeze Seaside Daisy
Erigeron glaucus Wayne Roderick * Wayne Roderick Seaside Daisy
Erigeron glaucus White Lights * White Lights Seaside Daisy
Eriogonum grande rubescens * Pink Buckwheat, Red Buckwheat
Euphorbia amygdaloides var. robbiae * Wood Spurge
Euphorbia Ascot Rainbow * Ascot Rainbow Spurge
Euphorbia milii * Crown of Thorns
Euphorbia tirucalli Sticks on Fire * Red Pencil Tree
Festuca californica * California Fescue
Fraxinus dipetala * California Ash
Freesia alba * Wild Freesia
Freesia laxa * Flowering Grass, False Freesia
Galium aparine * Bedstraw
Galvezia speciosa * Island Snapdragon
Garrya elliptica James Roof * Coast Silk Tassel
Gelsemium sempervirens * Carolina Jessamine
Geranium renardii * Renard's Geranium
Geranium macrorrhizum album
Geranium maderense * Madiera Geranium
Graptopetalum paraguayense * Ghost Plant
Grevillea noellii * Noel's Grevillea
Grevillea victoriae * Royal Grevillea
Greyia sutherlandii * Natal Bottlebrush
Haemanthus albiflos
Hamelia patens * Firebush
Helichrysum Limelight * Limelight Licorice Plant
Helichrysum petiolare * Licorice Plant
Heteromeles arbutifolia * Toyon
Heuchera Canyon Duet * Canyon Duet Coral Bells
Heuchera Firefly * Firefly Coral Bells
Heuchera maxima * Island Alumroot
Heuchera micrantha diversifolia Palace Purple * Crevice Alumroot, Palace Purple Coral Bells
Heuchera Santa Ana Cardinal * Santa Ana Cardinal Coral Bells
Heuchera villosa Kassandra * Kassandra Coral Bells
Heuchera Wendy * Wendy Coral Bells
Heucherella Bridget Bloom * Bridget Bloom Foam Flower
Hippeastrum papilio * Butterfly Amaryllis
Hippeastrum Red White * Red White Amaryllis
Homeria collina * Cape Tulip
Hoya carnosa * Wax Vine
Hydrangea quercifolia * Oak Leaf Hydrangea
Hydrangea quercifolia Alison * Oak Leaf Hydrangea Alison
Hydrangea quercifolia Sikes Dwarf * Dwarf Oak Leaf Hydrangea
Hydrangea serrata * Lace Hydrangea, Mountain Hydrangea, Tea of Heaven
Ilex Red Beauty * Red Beauty Holly
Iochroma cyaneum violaceae
Iochroma grandiflora * Blue Angel's Trumpet
Ipheion uniflorum * Spring Star Flower
Iris Black Gamecock * Lousiana Iris Black Gamecock
Iris Dorothea's Ruby * Pacific Coast Hybrid Iris Dorothea's Ruby
Iris hartwegii * Sierra Iris, Hartweg's Iris
Iris japonica * Iris nada
Iris Nada * Butterfly Iris
Iris pacific coast hybrids * Douglas' Iris Hybrids
Juniperus conferta * Shore Juniper
Justicia carnea * Brazilian Plume Plant
Justicia coccinea * Firespike
Justicia Fruit Salad * Fruit Salad Shrimp Plant
Justicia brandegeana Jambalaya * Dwarf Shrimp Plant, Jambalaya Shrimp Plant
Justicia suberecta * Hummingbird Bush
Justicia leonardii * Orange Justicia
Justicia rizzinii * Firecracker Flower
Kalanchoe beharensis * Velvet Elephant Ear
Kalanchoe humilis
Kalanchoe pumila * Flower Dust Plant
Kalanchoe tomentosa * Panda Plant, Pussy Ears
Keckiella cordifolia * Bush Penstemon, Heartleaf Penstemon, Heart Leafed Penstemon
Kennedia prostrata * Running Postman Vine
Lamium maculatum Shell Pink * Spotted Dead Nettle
Lampranthus aureus Orange Form * Orange Ice Plant
Lantana Luscious Citrus Blend
Lapierousia laxa * Flowering Grass, False Freesia
Lavandula multifida * Fern Leaf Lavender
Lavandula pinnata buchii * Jagged Lavender
Lavatera assurgentifolia * Tree Mallow
Lavatera purisima * Island Mallow
Leonotis leonurus * Lion's Tail
Leonotis leonrus alba * White Lions Tail
Leonotis menthifolia * Dwarf Lion's Tail
Lepechinia fragrans El Tigre * Island Pitcher Sage, Fragrant Pitcher Sage
Lepechinia hastata * Mexican Pitcher Sage
Leptospermum rotundifolium * Round Leaf Tea Tree
Leymus condensatus Canyon Prince * Canyon Prince Giant Rye
Limonium minutum * Dwarf Statice
Limonium perezii * Statice, Sea Lavender
Lirope Silver Dragon * Silver Dragon Lily Turf
Lomandra longifolia * Mat Rush
Lonicera subspicata denudata * Chaparral Honeysuckle
Loropetalum chinense * Witch Hazel
Loropetalum chinense Blush * Blush Witch Hazel
Loropetalum chinense Burgundy * Burgundy Witch Hazel
Macfadyne unguis-cati * Cat's Claw Vine
Mahonia nevinii * Nevin's Barberry
Maireana sedifolia * Pearl Bluebush
Malvaviscus arboreus * Turk's Cap
Mascagnia macroptera * Butterfly Vine
Melaleuca incana * Gray Honey Bush
Melianthus major * Honey Bush
Mimulus aurantiacus * Sticky Monkeyflower
Mimulus flemingii * Island Monkeyflower
Mimulus Georgie Red * Monkeyflower Georgie Red
Mimulus Jack * Monkeyflower Jack
Mimulus Midnight * Monkeyflower Midnight
Mimulus puniceus * Red Bush Monkeyflower
Mimulus Ruby Silver * Monkeyflower Ruby Silver
Mirabilis jalapa * Four O'Clock, Marvel of Peru
Monardella lanceolata * Mustang Mint
Monardella odoratissima * Mountain monardella, Desert Mint
Myrica californica * Pacific Wax Myrtle
Myrtus communis variegata * Variegated Myrtle
Nematanthus wettsteinii * Goldfish Plant
Nemophila maculata * Five Spot
Neomarica caerulea * Walking Iris, Apostle Plant
Odontonema strictum * Firespike
Ophiopogon japonicus nana * Dwarf Mondo Grass
Ophiopogon planiscapus nigrescens * Black Mondo Grass
Pachyphytum compactum
Pachyphytum oviferum * Moonstones Succulent
Paeonia californica * California Peony
Pelargonium cordifolium * Heartleaf Geranium
Pelargonium ionidiflorum * Celery Scented Geranium
Pelargonium quercifolium * Oakleaf Geranium
Pelargonium tomentosum * Peppermint Scented Geranium
Pellaea andromedifolia * Coffee Fern
Pennisetum Cherry Sparkler * Cherry Sparkler Fountain Grass
Pennisetum Fireworks * Fireworks Fountain Grass
Pennisetum setaceum rubrum * Red Fountain Grass
Penstemon palmeri * Palmer's Penstemon
Pentagramma triangularis * Gold Back Fern
Philadelphus mexicanus plena * Double Flowering Evergreen Mock Orange
Phlomis fruticosa * Jerusalem Sage
Pholistoma auritum * Fiesta Flower
Phormium tenax Jack Spratt * Dwarf New Zealand Flax
Phormium Pink Stripe * Pink Stripe New Zealand Flax
Phygelius capensis * Cape Fuchsia
Phygelius Moonraker * Yellow Cape Fuchsia, Moonraker Cape Fuchsia
Phygelius Pink Sensation * Pink Sensation Cape Fuchsia
Platanus racemosa * Sycamore
Plectranthus argentatus * Silver Spur Flower
Plectranthus ciliatus Drege * Drege Spur Flower
Plectranthus Mona Lavender * Mona Lavender Spur Flower
Plectranthus neochilus * Lobster Flower
Poliomintha longiflora * Mexican Oregano
Polygala dalmaisiana * Sweet Pea Shrub
Portulaca molokiniensis
Potentilla glandulosa * Sticky Cinquefoil
Prunus ilicifolia * Holly Leaf Cherry
Prunus ilicifolia ssp. lyonii * Catalina Cherry
Quercus agrifolia * Coast Live Oak
Quercus kelloggii * California Black Oak, Maple Leaf Oak
Ranunculus californicus * California Buttercup
Raphiolepsis indica Springtime * Springtime Indian Hawthorn
Reinwardtia indica * Yellow Flax
Rhamnus californicus Eve Case * Coffee Berry
Rhamnus crocea * Red Berry
Rhus integrifloia * Lemonade Berry
Rhus ovata * Sugar Bush
Ribes aureum * Golden Currant
Ribes malvaceum * Chaparral Currant
Ribes malvaceum viridifolium Ortega Beauty * Ortega Beauty Chaparral Currant
Ribes speciosum * Fuchsia Flowered Currant
Romneya coulteri * Matilija Poppy
Rosa californica * California Wild Rose
Ruellia brittoniana * Mexican Petunia
Russelia equisetiformis * Firecracker Plant
Russelia Night Lights Lemon * Yellow Firecracker Plant, Night Lights Lemon Firecracker Plant
Salvia adenophora * Oaxaca Red Sage
Salvia buchananii * Buchanan's Sage
Salvia confertiflora * Red Velvet Sage
Salvia discolor * Andean Silver Leaf Sage
Salvia dorisiana * Peach Sage, Fruit Scented Sage
Salvia Indigo Spires * Indigo Spires Sage
Salvia lemmonii * Lemmon's Sage
Salvia mexicana Limelight * Limelight Sage, Mexican Sage
Salvia microphylla * Little Leaf Sage
Salvia microphylla Berzerkeley * Berzerkeley Sage
Salvia microphylla Dark Dancer * Dark Dancer Sage
Salvia nemorosa * Woodland Sage
Salvia spathacea * Hummingbird Sage
Salvia urica * Blue Bush Sage
Scadoxus membranaceus * Blood Lily
Scaevola mauve clusters * Fairy Fan Flower
Scilla peruviana * Peruvian Lily
Scutellaria siphocampyloides * Greyleaf Skullcap
Sedum adolphii Firestorm * Golden Sedum, Adolph's Sedum
Sedum dasyphyllum * Corsican Stonecrop, Blue Tears Sedum
Sedum morganianum Burrito * Burrito Burro's Tail
Sedum spurium Tricolor * Variegated Stonecrop, Two Row Stonecrop
Senecio radicans * Fish Hook Senecio, Necklace Plant, String of Bananas
Silene laciniata * Indian Pink, Cardinal Catchfly
Sisyrinchium bellum * Blue Eyed Grass
Sisyrinchium Rocky Point * Rocky Point Blue Eyed Grass
Sollya heterophylla * Bluebell Creeper
Sprekelia formosissima * Aztec Lily
Spiraea cantoniensis * Bridal Wreath Spiraea, Reeves Spiraea
Stenomesson incarnatum
Stephanotis floribunda * Madagascar Jasmine
Stachys albotomentosa Hidalgo * Hidalgo Stachys, Seven-up Plant
Stachys byzantina 'Silver Carpet' * Lambs Ears
Stapelia grandiflora * Carrion Plant, Starfish Flower
Stenocarpus sinuatus * Firewheel Tree
Strelitzia nicolai * Giant Bird of Paradise
Strobilanthes gossypina * Pewter Bush
Syringa hyacinthiflora California Rose * California Rose Lilac
Tecoma X Smithii * Orange Bells
Tillandsia bergeri
Thunbergia battiscombei
Thysanolaena maxima * Tiger Grass
Tradescantia bossfeldiana * Inch Plant
Tradescantia pallida Purple Heart * Purple Wandering Jew
Tradescantia sillamontana * Cobwebby Spiderwort
Tricyrtis hirta * Toad Lily
Tulbaghia fragrans * Sweet Garlic
Tulbaghia violacea Savannah Lightening * White Society Garlic
Umbellularia californica * California Bay
Veltheimia bracteata * Forest Lily
Venegasia carpesioides * Canyon Sunflower
Verbascum Southern Charm * Mullein
Verbena lilacina De La Mina * Cedros Island Verbena
Verbena rigida * Sandpaper Verbena
Viburnum tinus compactum * Arrowwood
Vitis californica * California Wild Grape
Woodwardia fimbriata * Giant Chain Fern
Woodwardia unigemmata * Chinese Chain Fern
Zantedeschia aethiopica * Calla Lily
Zauschneria californica * California Fuchsia