Common Buckeye ~ Junonia coenia
The Common Buckeye can have up to 4 generations in a season. Junonia coenia is common throughout the southern part of the United States and up the coasts to Central California and North Carolina. The Common Buckeye eats Plantain, Monkeyflowers, Snapdragons and Linaria as a caterpillar. As adults they nectar from plants in the aster and mint and california lilac families. Most often I have found the buckeye in open mowed fields or sunning on rocks or pathways. The plant this Common Buckeye Butterfly is feeding on is Bacharis pilularis, Coyote Brush. This plant is in the Aster or Daisy Family and is a great late season choice for the butterfly garden.
For more of Martin's wildlife and nature photography.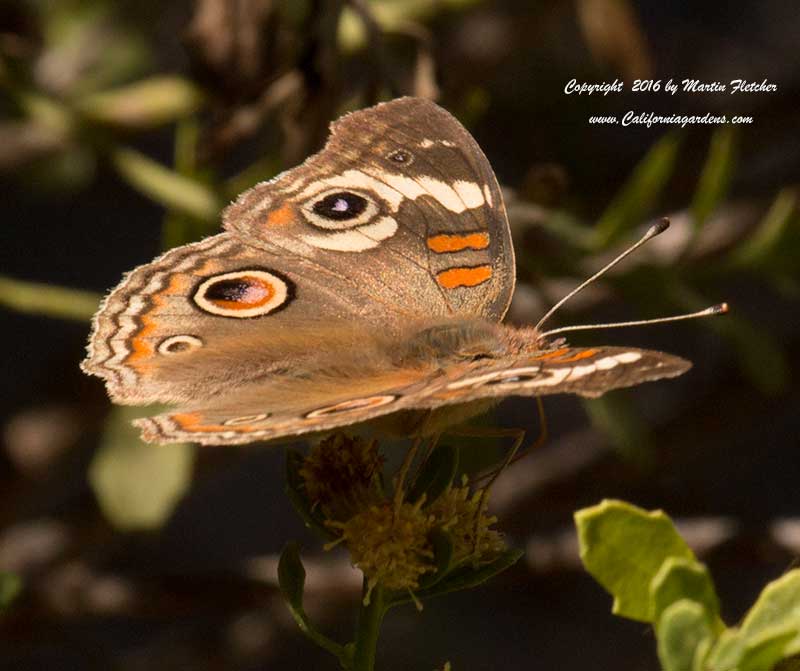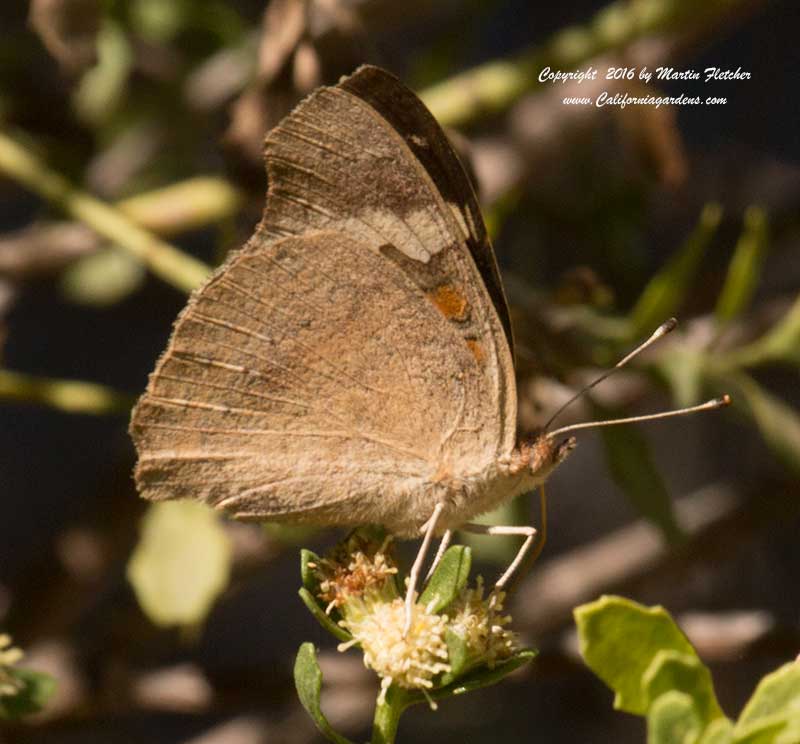 Plants to use in your garden to encourage the Common Buckeye to join you in your garden:
Larval Food for Buckeye Caterpillars includes plants in the Monkeyflower family these include the following from our ornamental plants lists:
Anthemis tinctoria * Dyer's Chamomile, Golden Marguerite
Antirrhinum hispanicum
Antirrhinum multiflorum
Argyranthemum Chelsea Girl
Argyranthemum Madeira Cherry Red
Argyranthemum Silver Lady
Araujia sericifera * Bladder Vine, Cruel Vine, Moth Vine
Asclepias angustifolia * Arizona Milkweed
Asclepias californica * California Milkweed
Asclepias cordifolia * Purple Milkweed
Asclepias curassavica * Tropical Milkweed
Asclepias curassavica Red Butterflies * Red Butterflies Tropical Milkweed
Asclepias curassavica Silky Gold * Silky Gold Tropical Milkweed
Asclepias eriocarpa * Woollypod Milkweed, Indian Milkweed, Kotolo Milkweed
Aslepias erosa * Desert Milkweed
Asclepias fascicularis * Narrow Leaf Milkweed
Asclepias linaria * Pine Needle Milkweed
Asclepias speciosa * Showy Milkweed
Asclepias subulata * Rush Milkweed, Skeleton Milkweed
Asclepias tuberosa * Butterfly Weed
Baccharis pilularis * Coyote Bush
Castilleja affinis * Indian Paintbrush
Digitalis ferruginea
Digitalis Illumination Flame
Digitalis mertonensis
Digitalis Silver Fox
Gomphocarpus physocarpus * Family Jewels, Hairy Balls
Hoya carnosa * Wax Vine
Diplacus aurantiacus * Sticky Monkeyflower
Diplacus longiflorus * Southern Bush Monkeyflower
Encelia californica * Coast Sunflower
Encelia californica El Dorado * El Dorado Brittle Bush
Encelia farinosa
Encelia Paleo Yellow
Encelia ventorum
Eremophila aurea
Eremophila Big Poly
Eremophila glabra Kalgoorlie
Eremophila glabra Mingenew Gold
Eremophila glabra Winter Blaze
Eremophila hygrophana
Eremophila maculata
Eremophila maculata Valentine
Erigeron argentatus * Silver Fleabane
Erigeron blochmaniae * Blochman's Erigeron
Erigeron foliosus foliosus * Leafy Fleabane, Hartweg's Fleabane
Erigeron glaucus Bountiful * Bountiful Seaside Daisy
Erigeron glaucus Cape Sebastian * Cape Sebastian Seaside Daisy
Erigeron glaucus Sea Breeze * Pink Seaside Daisy, Sea Breeze Seaside Daisy
Erigeron glaucus Wayne Roderick * Wayne Roderick Seaside Daisy
Erigeron glaucus White Lights * White Lights Seaside Daisy
Erigeron karvinskianus * Mexican Daisy, Santa Barbara Daisy
Erigeron speciosus * Aspen Fleabane, Showy Fleabane, Oregon Fleabane
Eriodictyon crassifolium * Felt Leaved Yerba Santa
Eriodictyon tomentosum * Woolly Yerba Santa
Eriogonum arborescens * Santa Cruz Island Buckwheat
Eriogonum cinereum * Ashyleaf Buckwheat, Coastal Buckweat
Eriogonum crocatum * Conejo Buckwheat, Saffron Buckweat
Eriogonum fasciculatum * California Buckwheat
Eriogonum fasciculatum Warriner Lytle * Warriner Lytle California Buckwheat
Eriogonum giganteum * Saint Catherine's Lace
Eriogonum grande rubescens * Red Buckwheat, Pink Buckwheat
Eriogonum incanum * Frosted Buckwheat
Eriogonum latifolium * Seaside Buckwheat, Coast Buckwheat
Eriogonum parviflorum * Sea Cliff Buckwheat, Coastal Buckwheat
Eriogonum umbellatum * Sulphur Buckwheat
Eriogonum wrightii * Bastardsage, Wright's Buckwheat
Eryngium planum * Blue Eryngo, Flat Sea Holly
Eryngium variifolium * Moroccan Sea Holly
Eryngium yuccifolium * Button Eryngo, Rattlesnake Master
Gaillardia aristata Arizona Apricot * Arizona Apricot Blanketflower
Gaillardia grandiflora * Blanketflower
Gaillardia grandiflora Mesa Red * Mesa Red Blanketflower
Galvezia speciosa Firecracker
Gomphocarpus fruticosus * Swan Milkweed, Narrow Leaf Cotton Plant
Gomphocarpus physocarpus * Family Jewels, Hairy Balls
Grindelia camporum * Great Valley Gumweed, Great Valley Gumplant
Grindelia robusta * Great Valley Gumweed, Great Valley Gumplant
Grindelia stricta * Coast Gumweed, Coast Gumplant
Keckiella antirrhinoides * Yellow Bush Penstemon
Keckiella cordifolia * Heartleaf Penstemon
Keckiella ternata * Blue Stemmed Penstemon
Lavandula stoechas Javelin Forte White * Javelin Forte White Spanish Lavender
Lessingia filaginafolia * California Aster
Leucophyllum candidum
Leucophyllum frutescens
Linaria vugaris
Mimulus aurantiacus * Sticky Monkeyflower
Mimulus bigelovii * Biglow's Monkeyflower
Mimulus cardinalis * Cardinal Monkeyflower
Mimulus flemingii
Mimulus Georgie Red
Mimulus guttatus * Seep Monkey Flower, Yellow Monkey Flower, Golden Monkey Flower
Mimulus Jack
Mimulus Jelly Bean Dark Pink * Jelly Bean Dark Pink Monkeyflower
Mimulus Jelly Bean Orange * Jelly Bean Orange Monkeyflower
Mimulus longiflorus * Southern Bush Monkeyflower
Mimulus Midnight
Mimulus puniceus
Mimulus Ruby Silver
Penstemon Apple Blossom
Penstemon Burgundy Brew
Penstemon centranthifolius
Penstemon cobaea
Penstemon eatonii
Penstemon Evelyn
Penstemon Firebird
Penstemon grinnellii
Penstemon heterophyllus
Penstemon Hidcote Pink
Penstemon Holly's White
Penstemon Husker Red
Penstemon Margarita BOP
Penstemon Midnight
Penstemon palmeri
Penstemon parryi
Penstemon Raven
Penstemon Red Rocks
Penstemon spectabilis
Penstemon trifloros
Phygelius African Queen * African Queen Cape Fuchsia
Phygelius capensis
Phygelius Moonraker
Phygelius Pink Sensation
Rehmannia elata
Ruellia brittoniana
Russellia equisetiformis
Russellia equisetiformis aurea
Tetraneuris acaulis * Angelita Daisy, Stemless Four Nerve Daisy