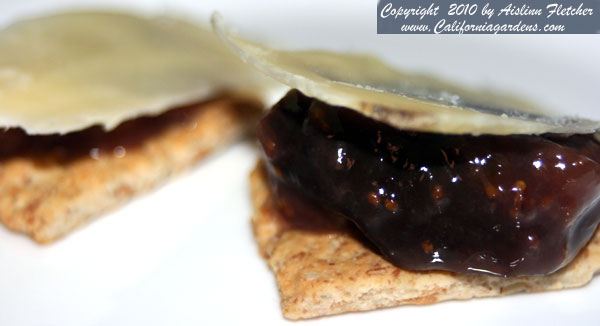 Savory Black Mission Fig Jam
This savory jam is a great addition to a cheese plate. The Dijon mustard adds an unexpected spice and flavor that pairs well with sharp cheddars. It would be delicious on a grilled ham and cheese sandwich as well!
1/2 pound fresh black mission figs, stemmed and quartered
1 cup water
2 tablespoons honey
1 teaspoon whole grain Dijon mustard
3/4 teaspoon sugar
Fresh ground black pepper and kosher salt, to taste
Combine all ingredients in a small saucepan and bring to a boil. Simmer on low heat for about 45 minutes, until the mixture has thickened and the figs are very soft. Let cool and store in the refrigerator.
Serve on crackers with an extra sharp cheddar. If you're feeling adventurous try an English Cheddar. We had it with a raw milk cheddar from the Neals Yard Dairy we bought at Whole Foods that was an especially good pairing.
Return to Fig Canape
Return to California Gardens - Cooks Corner