Fuyu Persimmon Salad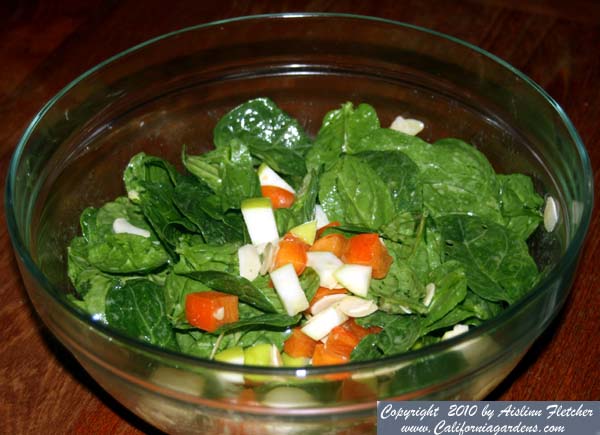 Every week we get a huge bag of spinach in our CSA box. I was starting to get in a rut, making the same old salad week after week. Spinach with red peppers, toasted walnuts, chevre, and a drizzle of olive oil and balsamic vinegar. Nothing wrong with that, but it was time to spice things up a little. I like the contrast between the sweetness of the Fuyu persimmon and the kick of the Dijon mustard vinaigrette.
1/3 cup extra virgin olive oil
1-2 teaspoons red wine vinegar
1 Tablespoon Dijon mustard
Salt and Pepper to taste
Combine the olive oil, red wine vinegar and Dijon mustard in the bottom of your salad bowl. Whisk until emulsified. Taste and add salt and pepper.
1/2 pound fresh spinach, washed and de-stemmed
2 Fuyu persimmons, cored and cut into 1/2 inch cubes
1 granny smith apple, cored and cut into 1/2 inch cubes
1/2 cup sliced almonds, lightly toasted
Add the remaining salad ingredients to the vinaigrette. Using your hands or a pair of tongs, toss until the vinaigrette is evenly spread over the salad.
I like to add the almonds while they're still warm so that the spinach wilts a little, but if this isn't to your taste make sure the almonds have time to cool before you mix the salad.
Return to Persimmon
Return to Cooks Corner
Browse all Recipes