Blueberry Thyme Cupcakes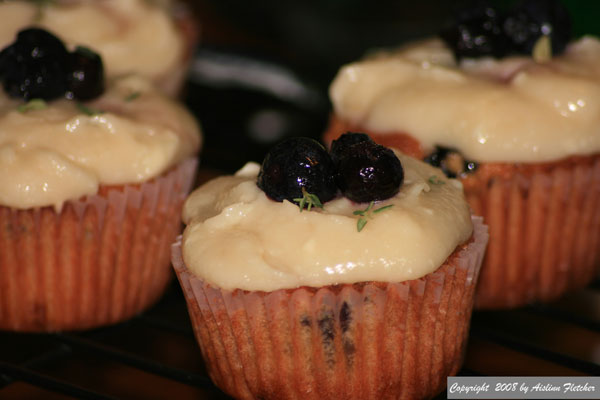 These cupcakes are a delicious summer dessert. They're kid friendly, but the thyme flavor makes them interesting to an adult crowd as well!
1/2 cup (1 stick) unsalted butter, room temperature
1 cup sugar
1 large egg
1 large egg yolk
1 1/3 cups all purpose flour
1 teaspoon baking powder
1/8 teaspoon salt
1/2 cup milk
1/4 cup fresh blueberries
2 teaspoons loosely packed, fresh thyme leaves
Preheat your oven to 350°F.
In an electric mixer, beat butter on high until soft, about 30 seconds. Gradually add sugar. Cream on medium high speed until light and fluffy, about 2 minutes. Add egg and yolk and beat until combined. Whisk together dry ingredients. Add to butter and sugar in thirds, alternating with the milk.
Chop the thyme leaves. Add the thyme and blueberries to the batter and fold in gently.
Scoop the batter into cupcake papers, filling them about 2/3s of the way.
Bake for 20-25 minutes, turning the pan after 15 minutes to ensure even baking.
Remove from the pan and let cool completely before icing.
Cream Cheese Icing
4 ounces cream cheese
1/4 stick butter, room temperature
2 cups sifted powdered sugar
1 teaspoon vanilla
Beat butter on high speed in an electric mixer until soft. Scrape the bowl with a spatula and add the cream cheese. Beat until combined. Gradually add the powdered sugar and vanilla extract on low speed and beat until smooth.
Return to Thyme Recipies
Return to Kitchen Herb Gardens
Return to Cooks Corner