Beet and Carrot Salad with Cilantro Lime Vinaigrette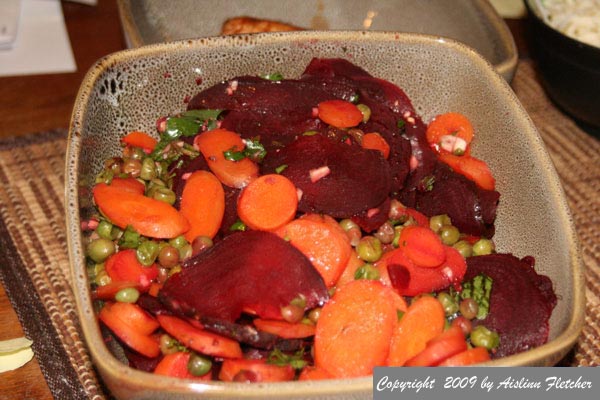 This dish is an excellent filling for tacos and quesadillas or side for other Mexican style dishes.
2 medium beets, peeled and sliced thinly
2 medium carrots, peeled and sliced diagonally
1 cup fresh or frozen peas
1 medium cucumber, peeled, seeded, and diced
Vinaigrette
6 tablespoons olive oil
3 tablespoons fresh lime juice (about one lime)
2 tablespoons chopped fresh cilantro
2 large garlic cloves, minced
salt and pepper to taste
Lightly steam the beets, carrots and peas in separate batches (since each will require varying amounts of cooking time) until fork tender but still bright in color. Mix in a large bowl and add the cucumber.
Whisk together all of the vinaigrette ingredients. Toss the vegetables with the vinaigrette and chill until ready to serve. If using to fill tacos or quesadillas, feel free to skip the chilling step.
Return to Beets
Return to Cooks Corner