Beet Tart Recipe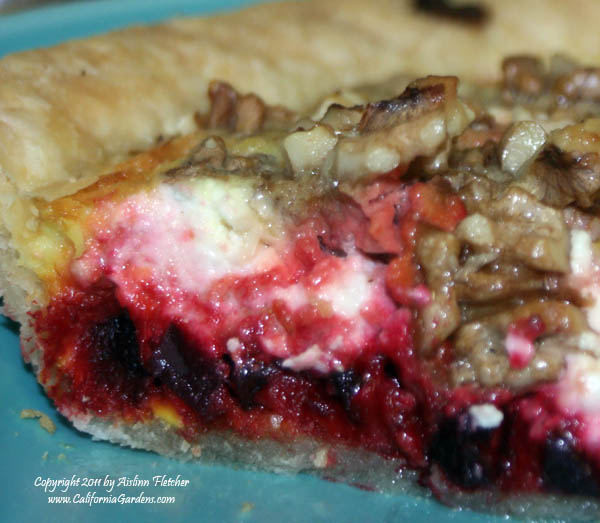 At first glance this beet tart looks like it belongs on the dessert table. The luscious red color, creamy filling, and crunchy walnut topping could all be at home on a berry pie. But it's an equally delicious dinner pie. Not as eggy as a quiche, this beet tart is more delicate and creamy than you ever knew a beet could be.
2-3 medium beets
2 Tablespoons olive oil
1 pie shell, homemade or store-bought
1 medium onion, diced
3 cloves garlic, minced
3/4 cup heavy cream
2 eggs
1/2 teaspoon fine grain sea salt
4 ounces fresh goat cheese, such as chevre
1 cup walnuts, roughly chopped
walnut oil (optional)
Preheat your oven to 350F. Wash the beets and toss in olive oil and roast for about an hour, or until you can slip a knife in them easily. Remove from the oven and let cool. Peel the beets with a paring knife -- Remember to be careful because they can and will stain everything! Dice the beets and set aside.
Prebake your crust in a 9 inch pie or tart pan at 350F with pie weights or dry beans in the bottom. Bake for 15-20 minutes, until just golden brown.
Heat a small sauté pan over medium-high heat. Add enough olive oil to coat the bottom of the pan. Saute the onions until golden brown. Add the garlic and cook briefly. Add the garlic and onions to the diced beets.
Pour the beets, onions, and garlic into the pre-baked pie shell. Whisk together the eggs, heavy cream and salt. Pour over the beets, jiggling the pie pan as necessary so the liquid fills the crevices between the beets. Dot the top of the tart with the chevre. Bake for 20 minutes. Remove from the oven and sprinkle the chopped walnuts on top. Drizzle with a generous dose of walnut oil if desired. Return to the oven and bake for another 15-20 minutes, until the tart has set.
Let rest for 5 minutes before serving.
Return to Beets
Return to Cooks Corner