Cook's Corner ~ Rosemary Cookies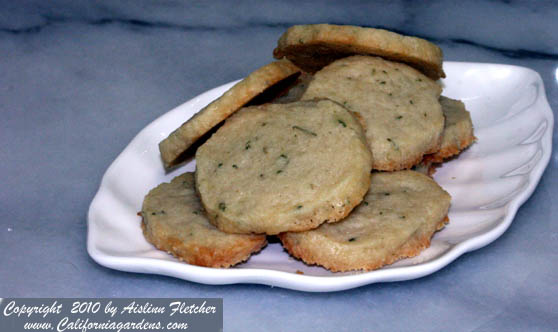 Rosemary Cookies
Cookies are not the first things to come to mind when I think of rosemary. I think of roast chicken and hearty stews, but definitely not cookies (or Ice Cream, but it's delicious too.)
There's something about the hint of savory in something you expect to be sweet that really intrigues me.
Rosemary Cookies Recipe
1 cup butter, room temperature
2T rosemary, chopped and mortared
1/2 cup sugar
1 tsp vanilla extract
1/4 tsp salt
2 cups all purpose flour
2 Tbsp milk (optional)
Combine the butter and rosemary, mixing well. Cream the butter and sugar in the bowl of an electric mixer. Add the vanilla extract and salt. Add the flour a 1/2 cup at a time, mixing briefly between each addition. As with all cookie doughs, be careful not to overwork the flour. If your cookie dough is crumbly at this point, you can add the milk. I find icebox style cookies like these to be much easier to slice and handle if the dough is almost sticky.
Divide the dough into two equal portions and roll into 2 inch diameter logs. Wrap each in plastic wrap and refrigerate for at least an hour. I like to bake one portion and freeze the other for later (with an extra layer of plastic wrap).
When ready to bake, preheat your oven to 350F. Remove the plastic wrap and slice the dough into 1/2 inch thick slices. Place on a greased cookie sheet (or line it with a silicone baking mat). Bake for 10 to 15 minutes, until the edges are just golden brown.
Remove from the baking sheet and let cool on a wire rack.
Return to Cook's Corner - Rosemary
Return to California Gardens - Cooks Corner