Roasted Tomato and Pepper Dipping Sauce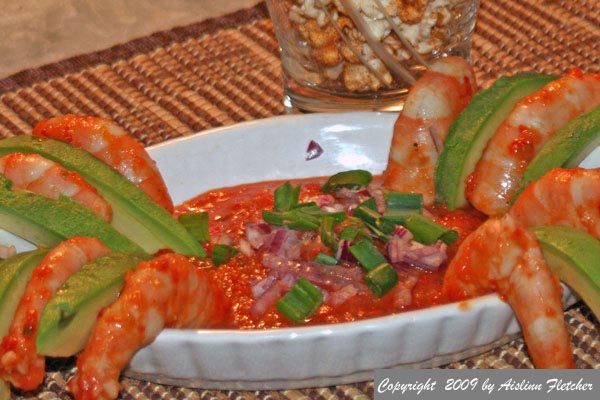 This sauce is excellent as a marinade and dipping sauce for poached shrimp or as a salsa for chips.
Serving the roasted beets together with the sautéed beet greens is a really easy way to eat the whole beet.
2 large tomatoes, quartered
1 large onion, peeled and quartered
1 large bell pepper, quartered and seeds removed
2 jalapeno chiles, quartered (optional)
3 tablespoons olive oil
1 tablespoon kosher salt
1/2 cup orange juice
Juice of 1 lime
1 small red onion, diced
1 small bunch of scallions, chopped
1 ripe avocado
1 pound precooked shrimp (optional)
Preheat your oven to 350°F.
Quarter all of the vegetables and toss in olive oil. You can choose to remove the jalapeno seeds or leave them in depending on your heat tolerance. Leaving the seeds in will make for a much spicier dip. Toss all of the vegetables with the olive oil and spread out on a baking sheet. Sprinkle generously with kosher salt. Roast for 15-20 minutes, or until well charred.
Combine the roasted vegetables in the bowl of a food processor with the orange and lime juices. Puree until smooth.
If serving with shrimp, cover precooked shrimp in the sauce and refrigerate for at least 30 minutes. Remove the shrimp from the sauce and serve with the dipping sauce on the side. Garnish the sauce with diced red onion, scallions, and avocado slices.
If using as a salsa, refrigerate the sauce alone for at least 30 minutes. Garnish with diced red onion, scallions, and avocado slices.
Return to Tomatoes Return to Cooks Corner
Browse all Recipes