Lavender Creme Brulee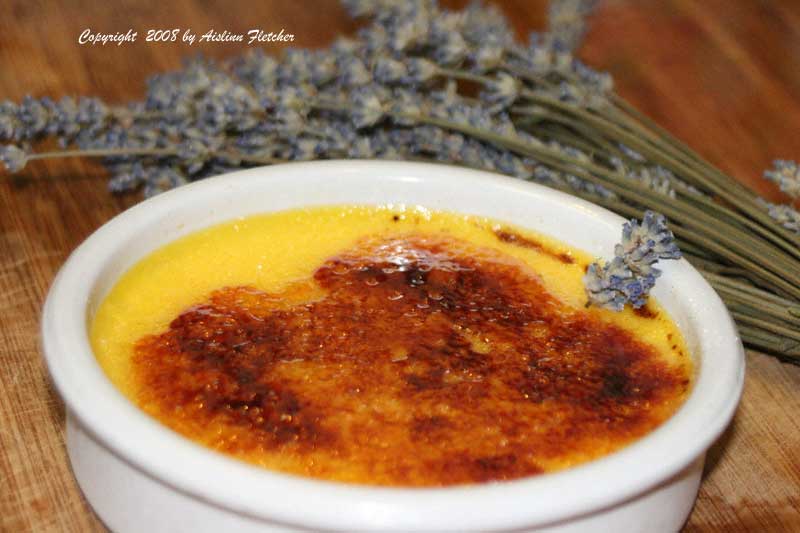 I'm always surprised at how impressed my friends and family are when I serve this Lavender Crème Brulee. I think a lot of people are intimidated by the burnt sugar topping, but it can easily be replicated at home, with or without a Culinary Torch. Try this Lavender Crème Brulee recipe out to impress your dinner guests with an exciting update to a classic dessert.
Lavender Crème Brulee
Serves Four
1 pint heavy cream
1 teaspoon dried lavender flowers
½ cup granulated sugar
4 egg yolks
Granulated sugar is for the burnt sugar topping
Preheat the oven to 325°F and place four ramekins in a large baking dish.
Place the heavy cream and the lavender flowers in a small saucepot and scald over medium high heat. Remove from the heat, cover, and let sit for 10 minutes. Meanwhile, place the egg yolks in a medium bowl. Strain the cream into the bowl with the eggs, whisking until combined. Gradually whisk in the sugar. Divide the mixture evenly between the ramekins.
Fill the baking dish with water about half way up the ramekins. Be careful not to splash any water into the ramekins, or the custard will not set. Bake for 30-40 minutes, until the custard is set. Remove the baking dish from the oven and leave the ramekins in the water bath for another 10 minutes to finish cooking. Place the ramekins in the refrigerator for at least one hour or overnight.
Just before serving, remove the ramekins from the refrigerator. Use a paper towel to carefully mop up any moisture that may have accumulated on the surface of the custard. Evenly sprinkle about two tablespoons of granulated sugar on the surface of each custard. Either place the ramekins under your broiler for a few minutes, or use a culinary torch to burn the sugar. If using a broiler, watch the ramekins carefully, rotating as needed to ensure even cooking.
Return to Cook's Corner ~ Cooking with Lavender
Return to Cooks Corner
Browse all Recipes