Lavender Cocktail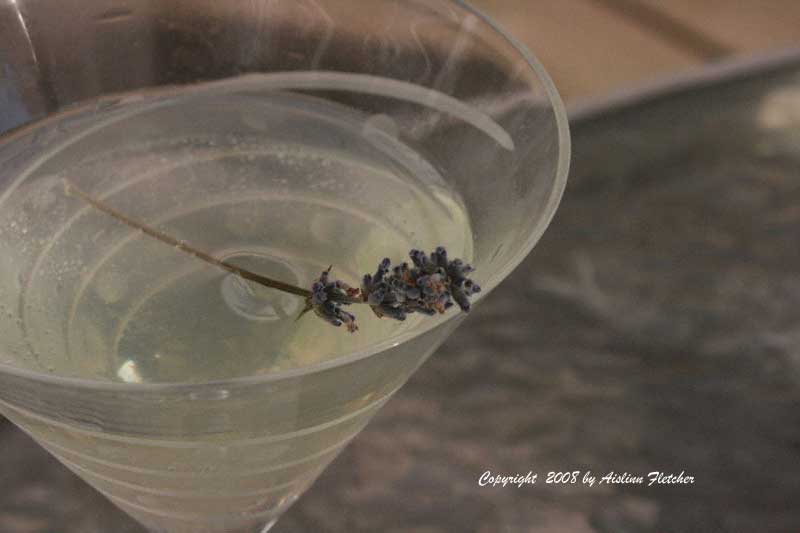 This Lavender Cocktail is the perfect drink for a hot summer evening. It is cool and refreshing, with a unique floral note. To give the Lavender Cocktail a stronger kick, you can leave out the limoncello and replace it with extra vodka, but I think the limoncello adds a very nice depth of flavor.
2 oz club soda
1 oz Vodka
½ oz limoncello
½ oz Lavender simple syrup (see recipe below)
Pour the 2 ounces of club soda into a martini glass. Combine the other ingredients in a martini shaker with ice and shake until well chilled. Pour over club soda and serve immediately.
Lavender simple syrup
1 cup granulated sugar
1 cup cold water
2 tablespoons fresh or driedlavender flowers.
To make the Lavender simple syrup, combine all of the ingredients in a small saucepan. Cook over medium high heat until the sugar is completely dissolved. Strain into a Tupperware and refrigerate until well chilled.
Try using any extra lavender simple syrup to sweeten any of your lemonade or other favorite drinks and cocktails!
Lavender Chocolate Ganache
1 cup heavy cream
¼ cup sugar
1 tablespoon fresh or dried lavender flowers
10 oz dark chocolate, finely chopped
Bring the cream, sugar and lavender to a simmer over medium heat, stirring regularly to prevent the sugar from burning on the bottom of the pan. Remove from the heat and let sit, covered, for 10 minutes.
Meanwhile, chop the chocolate and place in a medium sized bowl.
Return the lavender cream to the heat and bring back to a simmer. Pour through a strainer (to remove the lavender flowers) over the chocolate. Stir the cream into the chocolate with a whisk until chocolate is completely melted. Spoon or pour the Lavender Chocolate ganache into the prepared tart shells and refrigerate until ganache is firm.
Return to Cook's Corner ~ Cooking with Lavender
Return to Cooks Corner
Browse all Recipes