Hachiya Persimmon Cookies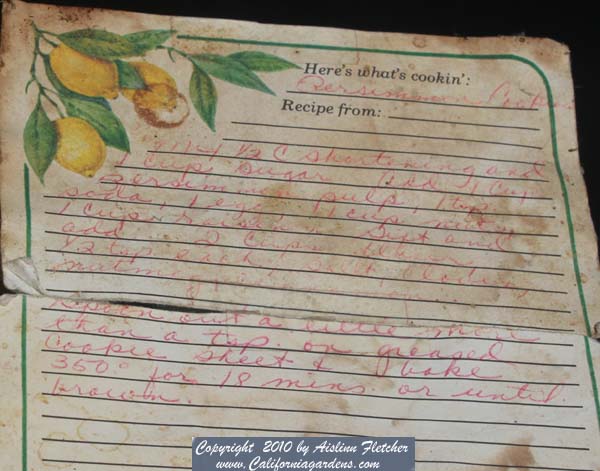 Hachiya Persimmon Cookies were a staple of my childhood. We made them more often than chocolate chip cookies. The recipe card is older than I am, a lot older. It's a good thing mom made them so often she has it memorized because I could barely read the recipe and needed her to translate it for me. She can't remember why the baking soda was supposed to be added directly to the persimmon pulp instead of with the dry ingredients, but she insists there must have been a good reason. I'm tempted to try it the other way to find out, but I'm too scared to waste a batch of these delicious cookies! (message from Dad, the cookies are pretty bomb proof, I mix all the dry ingredients together and they still come out tasting great!)
I also thought about substituting butter for the shortening, but I know the reason for that one. Shortening melts at a higher temperature than butter, which means that a cookie made with shortening will have more time to set up before the shortening melts. That means a cookie made with shortening won't spread as much as a cookie made with butter. Since the best part about these cookies is their amazing cake-like texture, letting them spread into thin, crispy cookies would be very, very sad. Thank you to Alton Brown for the food science lesson.
The cloves and nutmeg make me think of Christmas time, especially since that's about when the Hachiya persimmons are ripe. My dad collects huge quantities of persimmons so we can freeze the persimmon pulp and have Christmas year round.
1/2 cup shortening
1 cup sugar
1 cup persimmon pulp
1 tsp baking soda
1 egg
1 cup nuts
1 cup raisins
2 cups flour
1/2 tsp salt
1/2 tsp cloves
1/2 tsp nutmeg
Preheat your oven to 350°F.
In a small bowl, sift together the flour, salt, cloves and nutmeg.
In the bowl of a stand mixer, cream together the shortening and sugar. Add the baking soda to the persimmon pulp and add both to the sugar/shortening mixture. Scrape the bowl to make sure it is well mixed and add the egg. Add the nuts and raisins (if you have them, golden raisins look prettier than the black raisins though there is rarely the time to appreciate this before the are all gone). Add the flour mixture and stir just until combined.
Drop teaspoon - tablespoon sized dollops onto a greased cookie sheet and bake for 18 minutes or until browned. Let cool completely on a wire rack before eating, if you can wait that long.
Return to Persimmon Recipies
Return to Cooks Corner
Browse all Recipes
How to grow a Hachiya Persimmon Tree