Fuyu Persimmon Muffins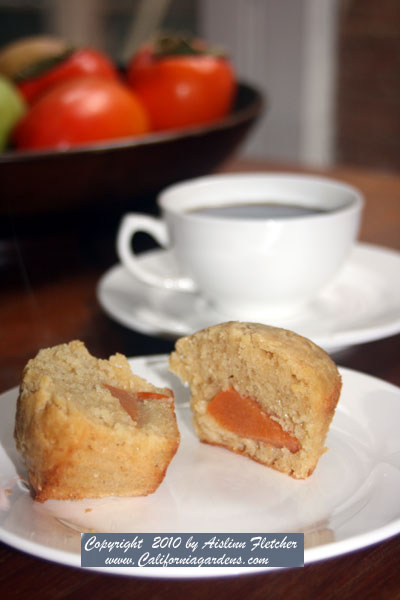 I'm always on the lookout for new breakfast possibilities. I love a good muffin - it's cake for breakfast!
3-4 Fuyu Persimmons, chopped about the size of a blueberry
2 cups all purpose flour
1/2 cup sugar
1 tsp salt
2 tsp baking powder
1 cup milk
4 oz (1 stick) unsalted butter, melted
2 eggs
Preheat the oven to 350°F. Line a 12-cup muffin tin with muffin wrappers.
Combine the flour, sugar, salt and baking powder in a small bowl. In another bowl, combine the milk, melted butter, and eggs. Whisk until the eggs are well mixed in. Add the dry ingredients to the wet ingredients and stir just enough to incorporate. Gently fold in the persimmon pieces. It's better to have lumpy batter than to have tough overbeaten muffins!
Use an ice cream scoop to portion the batter into the prepared muffin tin, filling each wrapper about 3/4 full. Bake for 25-30 minutes until a cake tester inserted in the center comes out clean.
Return to Persimmon
Return to Cooks Corner
Browse all Recipes