Cook's Corner - Diary of an Edible Landscape
<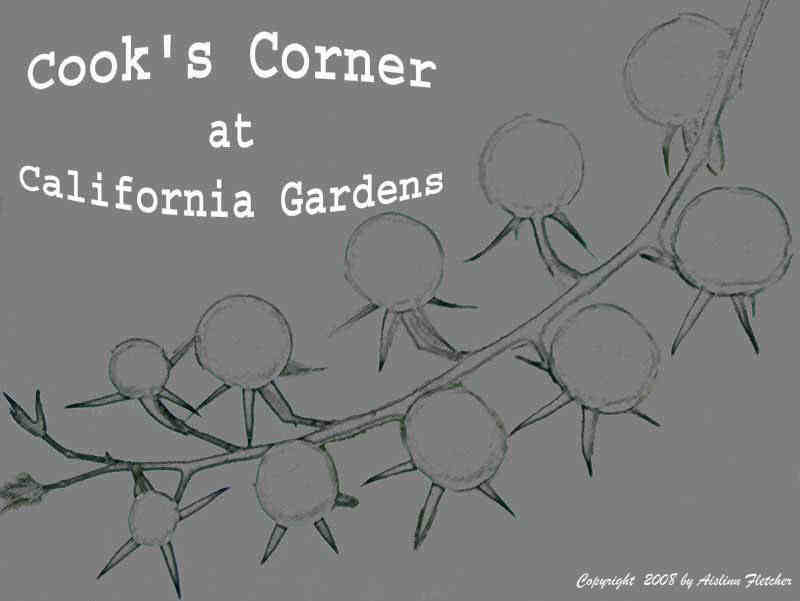 Welcome to Cook's Corner at California Gardens!
February 1, 2011
Edible gardens usually follow me, I don't even have to look for them. My childhood home was well stocked with a blackberry patch, wild mint, and plum-cot, tangerine, lemon, and apple trees when we moved by the time I was old enough to remember. My dad just kept planting his own trees, which now number close to 50.
Then I moved to Philadelphia for four years and after the first snow melted my Dad and J found wild hops growing in my backyard. How's that for luck for a girl with two homebrew fiends in her life?
Next stop: one year in San Francisco. We have an itty-bitty 5th story apartment. There's barely room for a potted plant on the fire escape. So we're asking dad what kind of tree that is outside the window, lo and behold, there's a fifty foot avocado tree outside our bedroom window. Nah, it can't be . . . except there they are avocados above our window
So how is it that when I move to Sacramento and buy a house in the middle of some of the best agricultural land in the world, there isn't a single edible thing in my yard? Even the small clump of chives I was so excited about turned out to be society garlic (Tulbbaghia violacea), a not so tasty imposter!
Now I'm on a mission to turn my yard into an edible landscape. I want it to be intensive and efficient and to grow year round, but without feeling like I'm sitting in the middle of a vegetable patch. I have plans for an espalier of apple trees and a patio shaded by grape vines growing on an arbor. I have visions of an herb garden and groundcover strawberries. If it's not edible, I'm not planting it. And if I plant it, I get to eat it!
Return to California Gardens - Cooks Corner