Swiss Chard with Oyster Sauce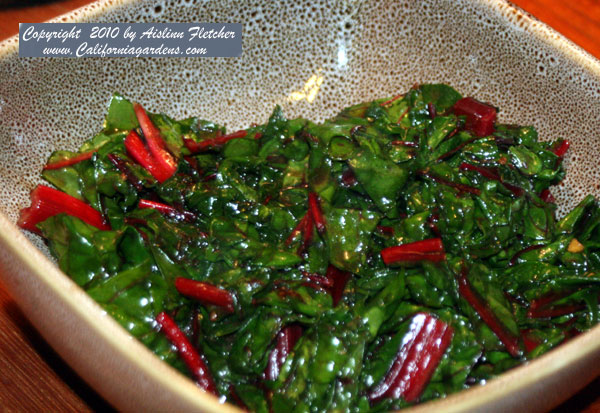 This recipe for Chard with Oyster Sauce is adapted from Mastering the Art of Chinese Cooking by Eileen Yin-Fei Lo. The original recipe called for Choi Sum, but the sweetness of the Oyster Sauce pairs well with the chard as well.
2 tablespoons oyster sauce
2 tablespoons vegetable stock (or water)
1 teaspoon dark soy sauce
1 teaspoon sugar
pinch of salt
pinch of white pepper
1 pound chard
2 quarts water
1/2 inch thick slice ginger, peeled and lightly smashed
2 teaspoons salt
3/4 teaspoon baking soda
To make the sauce: combine the oyster sauce, vegetable stock, soy sauce, sugar, salt and white pepper in a small bowl. Set aside.
In a large pot, bring the water to a boil over high heat. Add the ginger, salt and baking soda. When the water returns to a boil, add the chard and cook briefly, until it turns bright green. Remove the chard from the water and immediately shock in ice water to stop the cooking process. Drain well and discard the ginger.
Heat a large sauté pan or wok over high heat for thirty seconds. Add the sauce and stir until it begins to bubble. Add the chard and stir fry for about 2 minutes, until the chard is hot and well heated with the oyster sauce.
Serve immediately.
Return for more Swiss Chard Recipes
Return to Cooks Corner