Brussels Sprouts Gratin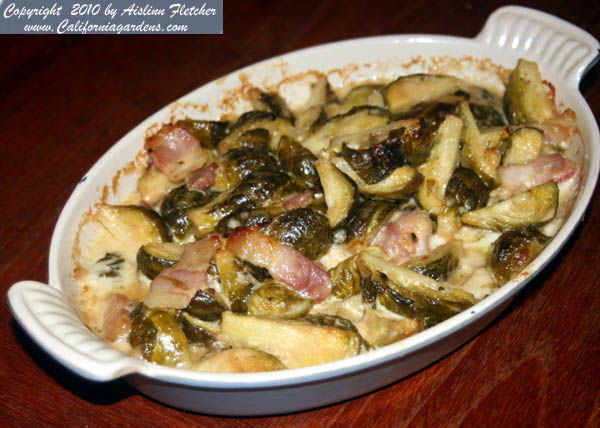 While my all-time favorite Brussels sprouts recipe is still Brussels Sprouts with Red Onions, this new recipe for Brussels Sprouts Gratin is going to start making many repeat appearances at my dinner table. The Brussels sprouts are so moist and tender after they absorb the rich cream and parmesan cheese, and what couldn't make a vegetable dish better than adding a little bacon?
1 pound Brussels sprouts, quartered
4 cloves of garlic, minced
4 strips of thick cut bacon, cut crosswise into 1/2 inch strips
3 Tablespoons all purpose flour
1 cup heavy cream
2 Tablespoons sherry cooking wine
1 cup grated parmesan cheese
Preheat your oven to 350°F.
In a large frying pan, cook the bacon strips over high heat until the fat is rendered out and the bacon is crispy. Lower the heat to medium and add the Brussels sprouts and garlic. Cook for 2-3 minutes, and add the flour. Stir for another 2 minutes until the flour is absorbed. Add the heavy cream, sherry, and half of the parmesan cheese. Season with salt and pepper, to taste. Bring the liquid to a simmer, lower the heat, and continue to simmer for 5-7 minutes. When the liquid has begun to thicken and reduce, transfer everything to an ovenproof casserole dish. Top with the remaining parmesan cheese. Cover the dish with aluminum foil and bake for 25-30 minutes, until the Brussels sprouts are very tender. If the gratin is still too liquid, remove the aluminum foil and bake for another 5-10 minutes.
Return toBrussels Sprouts Recipes
Return to Cooks Corner