Asparagus with Prosciutto and Cocoa Nibs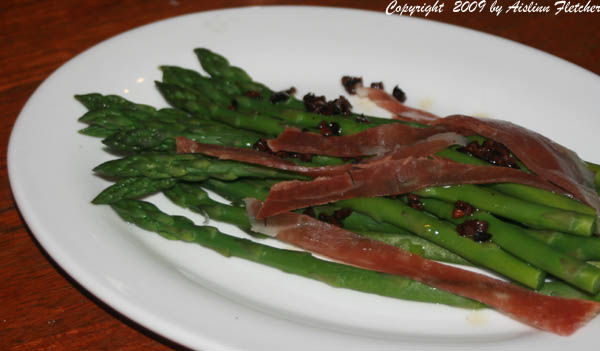 While asparagus is one of the very last things you'd think of to cook with chocolate, if you thought of it all, the cocoa nib infused olive oil adds a delicious and savory crunch to this dish. The prosciutto makes this a very hearty side dish that won't be dwarfed by anything. I increased the amount of prosciutto called for in the original recipe in Alice Medrich's Bittersweet cookbook and ate this alone as an entree.
1 pound asparagus
2 Tablespoons extra-virgin olive oil
2 Tablespoons cocoa nibs, lightly crushed with a rolling pin
5 to 6 thin slices prosciutto, trimmed of excess fat and sliced into long slender pieces
Bring a large pot of salted water to a boil. Cut the ends from the asparagus and rinse. Cook in boiling water just until barely tender and still bright green, 3 to 5 minutes.
Meanwhile, in a small saucepan warm the oil and crushed cocoa nibs over very low heat for 2 to 3 minutes to infuse the oil with the nib's flavor. Do not allow to simmer.
Drain the asparagus and let stand for a few minutes to evaporate excess moisture. Transfer to a serving platter and drizzle with the warm oil and prosciutto. Serve warm.
Make your own prosciutto with CharcutePalooza!
Return to Asparagus
Return to California Gardens - Cooks Corner